a Group Show at Manny Silverman Gallery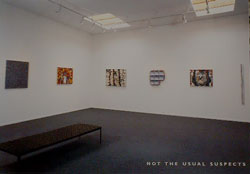 Jimmy Hayward has been moving a traveling road show around the SouthWest this year, this time at Manny Silverman's place in West Hollywood. They called it "Not The Usual Suspects".
left to right:
James Hayward
Michael Reafsnyder
Sam Tchakalian
Wess Dahlberg
me
Richard Allen Morris
Full generational spectrum. Not the usuals, probably because not many other painters out there are getting sticky fingers in the material like we do. A good place to be: unusual. Even in a time of the ferocious herd.
previous incarnations:
"Phat and Sassy" Charlotte Jackson, Santa Fe
"Five Times Four" Modernism Gallery, San Fransisco
I missed the opening, sorry guys. Time and money, yada yada.
(photo credit: paula goldman)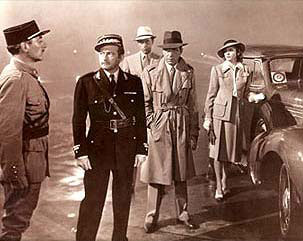 I keep replaying scenes of Casablanca in my head.
So I jump on my trusty horse, Google. Here's the next beat in the movie:
"Knowing that there are no witnesses, Renault overlooks Rick's crime and the police carry away Strasser's body. Rick looks back at his French friend with a half-smile. 'La Marseillaise' begins to play slowly on the soundtrack. Next to a stand-up desk, Renault picks up a bottle of Vichy water and opens it:
Renault: Well, Rick, you're not only a sentimentalist, but you've become a patriot.
Rick: Maybe, but it seemed like a good time to start.
Renault: I think perhaps you're right."
http://www.filmsite.org/casa5.html
Posted by Dennis at July 11, 2003 10:30 AM