Like a Ship Coming into Port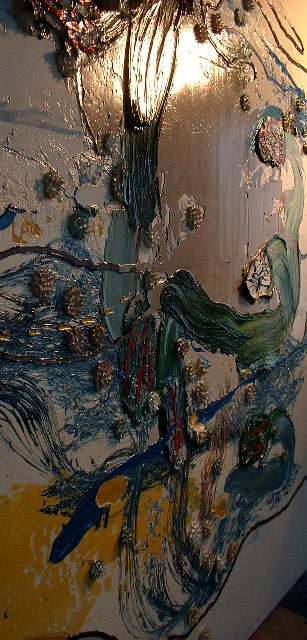 43 hours into this painting. Up against the wall and the wall is dry paint. Or, drying paint. Once the surface begins to consolidate , a displacement of the mass will make the body of paint mealy... not the buttery goodness of the beginning.
I wish I could paint the whole time... the body relents, fatigue sets in. Catnaps, love 'em. Back in ChinaTown, I would sleep on a blue mat at the edge of the stage, eat take out, the place was Spartan. Now, this loft is luxurious in comparison. A big refrigerator, not the forty dollar college dorm special. A full kitchen. A sleigh couch, a bedroom, a shower. Satellite big screen TV, DSfreakinL, ohhh yeaaa... No cockaroaches, no fleas (like the CT back alley infestation problems of old)... relatively speaking. A palace. A kingdom of sirens... and like Odysseus, they must be resisted or else.
Ok. A little dramatic. A little more sugar in an already sweet life. Thank you, Lord.
43 hours and I'm three quarters of the way thru.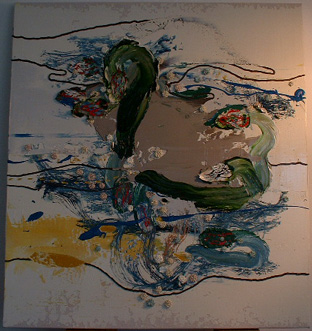 I think I'll call this one "Ragpicker" in homage to Manet and the Norton Simon, the thought at the beginning of it all.
I've been thinking of the next painting that could take this inspiration more literally, as a starting point. In my mind's eye, there's the murky monochrome of the background and the scumble that becomes the figure of the rags in the foreground. Next: a work on paper to flesh it out.
Flesh, carnitas.
Posted by Dennis at July 22, 2003 3:13 PM