All the Ladies, All the Ladies

All the ladies, all the ladies in the house... courtesy of Gail Sachson, who is an art consultant in Dallas. Her company is called "Ask Me About Art" and she is what I call a bumblebee, those irreplacable people in the artworld that go from one secluded white box to the other, cross fertilizing. This time, she brought a second group of distinguished ladies to my studio to see the work before it goes out to LA and Z?rich.

I enjoy the public speaking thing, even though I feel awkward and incoherent. I usually get a good response, but I suspect a lot of it is charitable. I shall persist until familiarity grows and hopefully I get better.


This time, I was just getting started and the allotted time ran out. The ladies probably wouldn't want my whole routine anyway. We had a little trip and fall. Everything turned out well, and the lady was a lady, very composed and dignified. The other ladies swarmed and we applied first aid with band-aids and a bag of edamame I had in the freezer.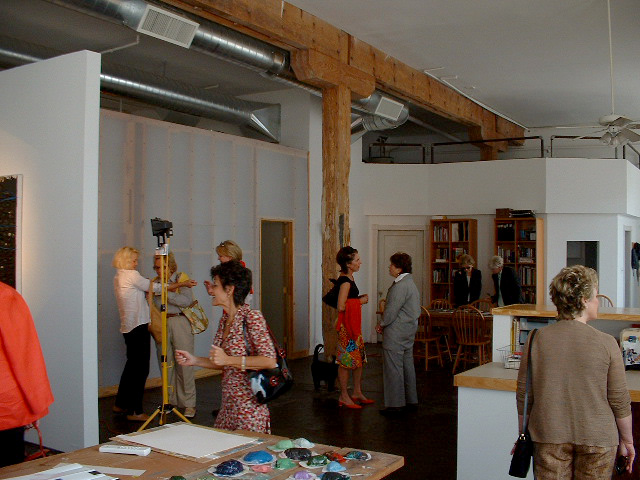 That's Gail above in the flower print and clenched enthusiasm. The ladies said I had to be a nice guy because my dog Juno was so loving. Yup (she's loving, alright). Texans are canine connoisseurs. Juno gets compliments continously out here in Texas, from people of all stripes. Californians don't give a damn.

Posted by Dennis at September 18, 2003 10:08 AM