Goin' back to Cali'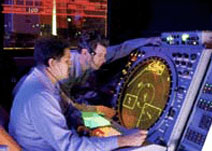 Stephanie and I will be visiting family this weekend, more flying. It's a good thing we like to fly.
What's the pic above? Combat Information Center, C.I.C. Scope Dopes.
We saw "Band of Brothers" recently, and it made me think of my father and his Band of Brothers. I heard him speak in these terms long before this HBO series came out. This is a painful story, told even by a second generation.
And this makes me think of my own band (note the lower case). USS Truxtun, CGN-35, a nuclear powered cruiser in the Pacific. I worked in the dark room behind the bridge with all the colored lights and radio noise. Gary Barnett reads the blog (whazzup, Gazza!). The other guys are scattered, Tom O'Sullivan, Dave Mulkey... ah, er, the names are fogging up in my fried memory. The camaraderie was unique. I wasn't a "dig-it" back in those days. Late in to my enllistment, I was described by some as a rebel. But I did my job as well as I could and soaked up the experience and fellowship. I knew back then that no matter how trying times were, there would be a day in the deep future when I would look back fondly on those days.
The future is here.
Posted by Dennis at December 4, 2003 2:51 PM