Wrangler

The past couple of days have been intense. I've been painting the fourth of six panels and a work on paper (wop) simultaneously. Dr. Evil and miniMe. The wop (miniMe) is shown above in a preliminary state.
Red, red, red. Cadmium red, that is... with a little white and ochre to temper it. It's a middle tone, so the tonality is hard to manage because you are starting out having to go light or dark immediately. Here, as for the pupose of the series, is a schema of portrait, an organization that is a favorite of mine. A knot of paintagainst a monochrome field. Monochrome painters I know probably think I'm pooping on an otherwise good painting.
I'm showing the painting below in the same preliminary state to illustrate a point: there's something about massing and proportions that become important very early in the experience. Here in the wop, I like the shapes very much. It has the bones of a good painting. However, the painting below is goofy as all hell. I hit the mark in the wop, but not in the panel.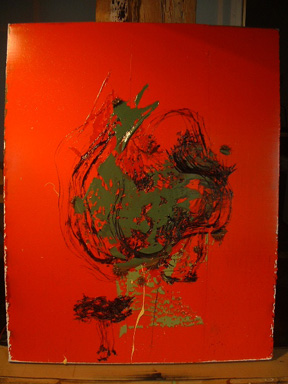 I started work on this painting Tuesday. I scraped it off Wednesday morning. I almost scraped it again today around three in the afternoon. I finished it around six in the afternoon. Since this is alla prima, I have to make hay whilst it's wet. So, I cat nap along the way, a little sleep deprived. It's fun!

Posted by Dennis at December 18, 2003 10:02 PM