Speaking of the future...
Ahem...
I think I've just got a glimpse of the future.
When Juno passes away, I think we'll have her soul downloaded into this: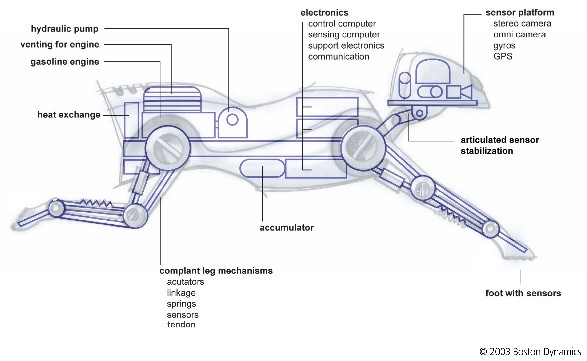 "Today's soldiers carry as much as 100 pounds of equipment. That's exhausting, even for the toughest grunt. In the future, the Army wants to dump up to half that gear onto the back of a drone. But military scientists are worried that robots with wheels won't be able to follow their human masters across mountain passes, up stairs and through forest trails.
To make their way across that kind of terrain, the drones will need legs -- maybe even four of them. So the Army's Tank-automotive and Armaments Command, orTACOM, has just doled out $2.25 million to two robotics firms to prototype a big, mechanical dog capable of carrying ammunition, food and supplies into battle."
(Remember the mars movie (Val Kilmer), that combat robot?)
Posted by Dennis at January 7, 2004 5:04 PM