Studio Visit


Just in time for the end of a week of woodshop, I had two visitors from Dallas into the studio. They are private dealers, homegrown here in Dallas. I googled them and found that they used to play with the heavy hitters when they did have a gallery some time ago. Richmond Burton, Ross Bleckner, Peter Halley, Jim Isermann... good company.
I was delighted to find that they were cool people. We had a great conversation and they invited Stephanie and I to go out to dinner this Sunday. I get to see their collection, lots of paintings. (Too bad Stephanie will have to go to New York -Brrrr cold, 10F degrees- that day, market week.)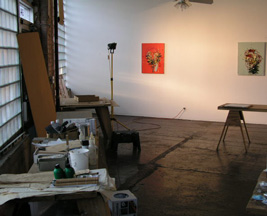 And they paid attention to the work. That doesn't happen all the time.
Posted by Dennis at January 10, 2004 5:36 PM