Rubber meets Road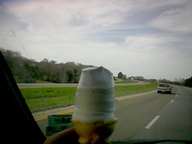 We've been to Houston and back. I've shot a few photos, so I'll blog them in separate posts. The road between Dallas and Houston is dotted with Dairy Queens, a perfect opportunity to get the soft serve fix along the way.
Getting back, we have the bulk of the move to take on still. About a dozen boxes are going to Spain via a shipping service we found on the net, based in Houston. Packing clothes, books, and office stuff for an indefinite future into such a discrete volume is quite a task. Figuring out what should go to LA (to be stuffed into the deep attic/basement storage of m=our house) is another daunting task. When we returned, we were a little befuddled at first. The rental truck was three times more expensive than we had originally anticipated (a bad quote and bad information from U-Haul). We trimmed even more from the pile of stuff... to stuff into LA attic.
We're feeling better now.
Posted by Dennis at March 8, 2004 6:02 AM