Tujunga and DTLA

A juxtaposition for you: urban and suburban.
This, a shot of Gehry's Disney Concert Hall, taken as Stephanie and I are taking care of banking chores in downtown Los Angeles.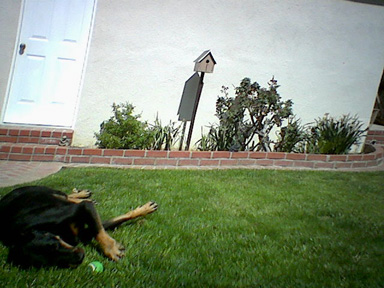 Our dog Juno enjoying the grass the way dogs like to do.
We are staying with Stephanie's Aunt Eileen and Uncle Bobby in Tujunga, the very edge of the city against the rim of the Los Angeles metroplex. The are so generous that our two and a half weeks here is completely at ease. The final week here will auger a small family reunion, a great send off to Spain.
Posted by Dennis at March 28, 2004 1:18 AM