BCN Crit Trip
Here's a report on yesterday's trip to Barcelona to fetch paint and guest crit Gerry and Paul's architecture studio. But first, a picture of Ramon Gascon, our carpenter, who was lunching at the bus station bar...


Ramon builds my panels and also stuff for our house, our new doors on the fourth floor, for example. He is a connoisseur of wine, speaker of english and very Catalan. Cool guy, very genial.
The bus station is the local hang out. All the workers in town can be found there morning noon and night. This bar is also the place for hard core party people who wouldn't let a sunrise spoil that great evening they had the night before. When the discos close, you can find the partypeople at the bus station bar partaking of that last drink.

Gerry Smulevich and Paul Grove (left to right here) teach at the university I used to adjunct at a few years ago. Gerry plays guitar in a band and Paul is a polymath (photography, cooking, languages)... both have active small architecture practices and of course they teach, full plates. Funny, interesting guys, and it is wonderful to see them in Barcelona.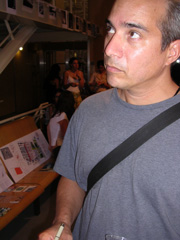 The students were intructed to select a portion of Barcelona and analyse aspects of its urbanistic configuration and apply what they learned to another portion of the city that is about to undergo an overhaul soon, a part of the city known as "La Mina". The critique was conducted in a building that had historical Roman walls, and so the students couldn't attach their drawings to the interior.

So I slid on my old professor's hat and looked for evidence of curiosity in the students' work. The crit was conducted in multiple teams of two, and Stephanie and I got to team up. Stephanie got into it and it was fabulous to jury with her.

The students were pretty good. Some were brilliant, mostly the young women. Aside from raw intelligence, I prowl for that quirky, unusual take on the world, personality and a point of view. Then I gadfly them into enlarging it.
After the crits, the speaches, the awards, the snacks, we all walked down to a bar (the 4 Gats, a bar which is supposed to be the one Picasso hung out in when he was a pup, I'm not sure if that is exactly true though). Along the way, we say hello to Jesus....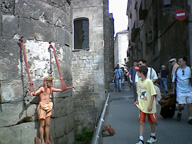 I didn't know the Passion had an episode when Jesus took a break along the way to Calvary. ;-) (we didn't toss coins at the feet of the son of G-d, that seemed unseemly) This is a typical tourista display, living statues. On the Ramblas, there are many assorted varieties.

A good day.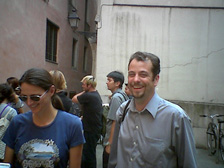 Later, we jet out to "Barna", the best and only local art supply store I yet know of here. I bought a ton of paint and it cost a fortune, double what I have been used to in Los Angeles. This is a problem that must be solved soon.
Posted by Dennis at June 23, 2004 3:11 AM