The Expedition
(Permit me to introduce our good friend Tif Sigfrids, who will tell you the story of Joel and Tif's visit and our snorkel expedition round mount Tossa. -DH)
Sitting on a fourth floor between mountains and sea and drunk seagulls flying in unusual ways, a siesta is nice, but the water is nicer.
Swimming up and through fish and tasting the salt, the water is so clear here.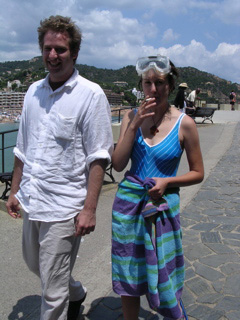 ***
Be weary not of the water, but the rocks you should fear.
but what's better than the water is to drink the cava sangria. the fruit that's left in the bottom of the pitcher makes the best dessert,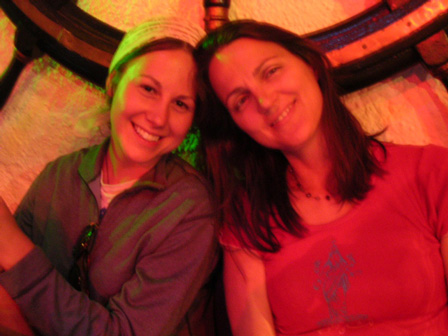 Stephanie and Tif's cava sangria... which is as follows:
1 bottle of cold champage
1 crushed white peach
8 fresh cherries halved
1 orange cut into small pieces
1/2 lemon
directions: dice peach and crush using a morter and pestal and place in the bottom of the pitcher... pit and cut cherries in half and place in pitcher... cut orange into small segments and place in pitcher.... squeeze the juice of half of a lemon over the fruit and pour champagne on top! stir.
That or faeron who performs nightly at the flamenco bar around the corner.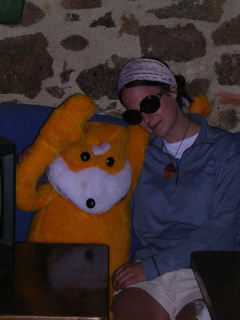 In the morning a coffee and boats,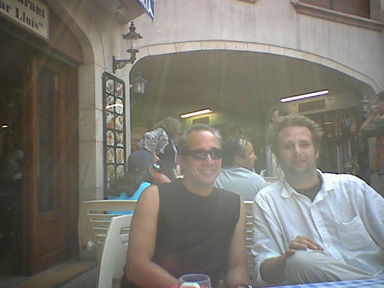 Kayaks or your own two legs to take you out to sea.
The best advice is to keep swimmng... around and around tossa.... and to never leave.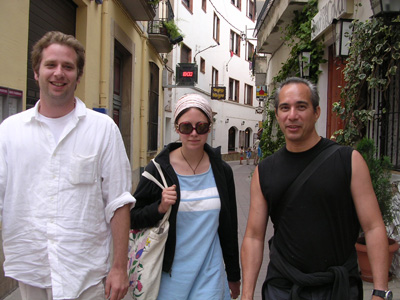 Posted by Dennis at July 21, 2004 1:13 PM