Isler and Isler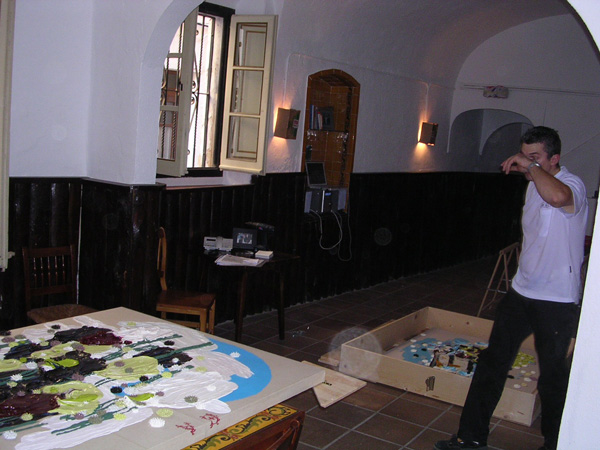 Yesterday, the paintings were shipped off to Z?rich early in the morning. The once packed studio is empty and as usual I have mixed feelings. Happy to have the studio for new work, apprehensive that others may not see what I saw when I finished the paintings. Normal.
Sorry to not have captured Marcel's visage in this pic. He's the co-owner of Isler and Isler, brothers who started their own company after many years of working too many hours for nothing in the biggest art handling company in Z?rich. He's very amiable. Although wired. At the time of this shot (Wednesday morning), Marcel has had no sleep since Monday. I offer him coffee but no, he's been eating caffine pills for days. Very humid, we sweat, dripping beads onto the crates. He and his brother are swamped with work, good news. Z?rich will be having many openings soon, a frenzy, my show will be in the middle of it. (A butterfly flutters its' wings in my gut.) Marcel will deadhead to Switzerland with the work.
Ten paintings, five traveling crates built like fine furniture. Marcel parked illegally nearby, asking the policeman along the way if it's ok to leave the van there whilst we load it. The van was new, and the interior was outfitted perfectly for handling art, it looked like an ambulance.
Se?or Policia wasn't happy about the answer, begrudging. Marcel smiles to me on the way back: "In Spain fifteen minutes means an hour." I wince at the stereotype, wanting to remind him that this is Catalonia. But I figure he knows Europe better than I.
An hour and a half later, we finish securing the paintings into the crates, double screwing them, a good job. We do this in the ground floor, hauling the paintings from the studio above. I begin to feel good about it. We load up the dollies and hail the crates to the van... where the policeman has his tow guy there, affixing the yellow boot onto the front wheel. Castelleno ensues, Marcel speaks well. Shrugs, apologies, reassurances. A fine. I am barely hanging on, understanding what's going on. Marcel pulls out his wallet and out pops a crisp 500 Euro note. My eyes widen. No, the fine is less (I wonder if the police wants a bribe?) and Marcel looks for a ready teller, he needs change. Antsy minutes pass and Marcel finds his hundred dollar notes and the policeman is getting uncomfortable. It wasn't two hundred Euro fine, it was twenty two. The policeman was cool, he didn't want the appearance of graft. Marcel, flush with relief, begins to plan for a two hundred Euro drinking party once he returns home.
I hope he makes it back ok.
Posted by Dennis at August 19, 2004 3:40 AM