PruessPress.com
My good friend Joel Mesler from ChinaTown Los Angeles has booted up the PruessPress website, thus realizing a dream of creating a publishing activity, the latest form of art in the expanded field. The animating idea of our times is the ability to do more with less, and now Joel and his team (see the credits on the site: Mark, Tif, Tony, Rabbi Milkblood and a cast of near hundreds...) is able to renew the printing/publishing house artworld entity (the legacy of the great LA print houses such as Cirrus and Gemini Gel) with a nimble and natural (emphasise on the latter) un-strategy based on keeping it real (with a vengance).
Check it out and download the music, it's free and flowing. There's a lot of good stuff on it (good, then as you listen, it becomes great), especially Mark Stan Rogel and Rabbi Milkblood's vocalizados:

Well, listen for a moment lads
Hear me tell my tale!
Across the seas from England
I was condemned to sail...

The journey found me giulty and
Says the judge, says he
Ah, for life Jim Jones
We're sending you across the stormy seas...

I want to get a gig for them here in Tossa, maybe radio Tossa and a live performance in Ramon's basement of the bus station.
It's great to see friends noodle into their curiosities and fry up an offering such as this website. Joel's going to take this publisher's thing very far, this is just the beginning. He's already got an art print activity threaded (we collaborated last Fall) and downloadable movies are on the way.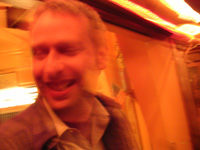 Posted by Dennis at September 4, 2004 5:26 AM