Check this Out

Check this building out!
It is on the way to Girona's historic center from the bus station. I know nothing about it, but it is festooned with these worker's paradise terra cotta image/forms. There are perhaps four times more of them than the number of jpegs that follow.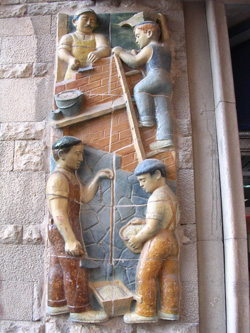 A tidy columnar stack, Mr. Bartender. It reminds me of Tom Otterness' stuff, where humanity resembles the hive... or a fairy tale.
Posted by Dennis at October 4, 2004 10:46 PM