Fiesta de San Grau

Even cities here have birthdays, and for Tossa, it's called "San Grau". Every year, the residents of Tossa go to a nearby mountaintop and have a picnic. And over the years, they've been having concerts on the night before the picnic, camping for a few days prior, partying down muy rustica. Here's a few fotos for you all:

Of course we went with our friends Kiko and Teresa, and Kiko's best friends Joan and Monica. Joan and Monica own and operate a restaurant and a bar in Tossa, cool people. Joan is the type that likes to pull your leg, and I've been told that when he gets to know you, he can really stick it in. For example, I heard him greet a buddy, Nacho by calling him a "canta ma?ana", which translates to a "morning singer"... someone who wakes up singing in the morning... in other words, cluelessly happy.
I await my own comeuppance one day soon, I hope. They're a fun couple.

Mi amigo fuerte, Kiko.
On the mountaintop, people were camping all around in the darkness. The season for open camping fires was yet a few days off, so people were sensitive to the prohibition against campfires, the place was pretty dark. What fires did occur were hidden, on the q&t.

The bands rotated one after the other. People were pretty enthusiastic, often singing along, wriggling.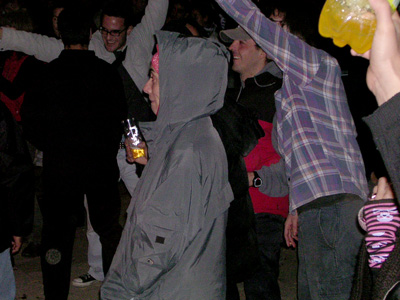 A shot of the audience for you.

Every song on the stage was dedicated to Nanni, owner of the Hippy Shop, here in Tossa... rockstar that he is here. I had to get a celeb shot in there.

Stephanie is getting ready for the cold weather. The visit to the mountaintop is a good rehearsal for what is to come.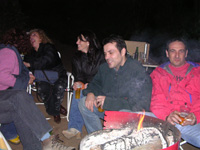 At around 3:30, we thought we were heading home... but we should have known better. We stopped at a campsite of Kiko and Joan's friends, people who own another restaurant in Tossa. I forget their names. (Pictured to the left.) Thier encampment was tucked into hillside. They strung up a sheltering tarp and a brazier provided heat. Off into the back behind rocks was a generator to power a small refrigerator and a nearby beer keg and tap kept the party rolling along.
We returned home before the sunrise, about 6:30 am. And that is starting to feel normal to us now.
Posted by Dennis at October 14, 2004 1:00 PM