Group Show at Tanya's
Group exhibition / Paintings
??21.10 t/m 14.11
Pia Fries( D),
J?rgen Meyer(D),
Dennis Hollingsworth (USA),
Angela de la Cruz(UK)
Adrian Schiess (CH),
Paul Doran (Ir)
Tanya Rumpff was kind enough to include me in a group show at her gallery in Haarlem. She saw my work at Andr? Buchmann's gallery (probably an art fair) and I'm touched that she would seek me out. After a studio visit last month, we agreed to work together and the first solo will be next Fall.
I'm happy to be in the show and learn more of other painters here in the EU. So, here's the result of a swift google search: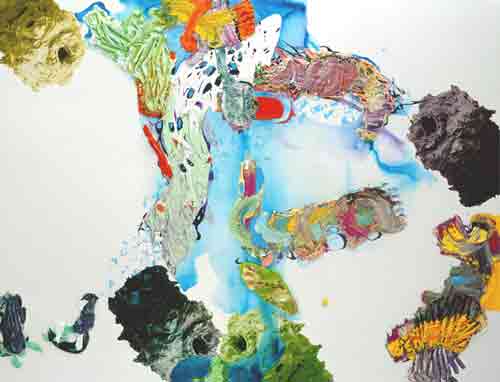 Pia was kind enough to visit me in LA a while ago. She's the only artist in the show I know. So, I'm curious to see with you, dear blogreader, what the other artists are up to.
This, from a site I've never encountered before, NewYorkArt.com:
The paintings are topographies, which even their made-up names--Belsize, Buckhurst, Caspian (not made-up), Vivelin, and Tellson--seem to indicate. Their terrain is whiteness, light that suffuses every color, an absence of darkness because these forms are constantly emerging out of the whiteness. They exist in light and are created not to defeat it. Thin washes, such as the river of blue running down (or up) the center of Caspian, are both evanescent and powerful, creating a kind of free-form undertow that pulls the heavier thicknesses of paint together. These thicknesses have a sense of hyperreality that pushes out into our space from pictorial space in very distinctive patterns that persist despite occasional interruption. And then they gather and form new vortexes, still remaining distinctive in their shapes, colors, and movements, and always intensified by light. Every form is changing, becoming, and at the same time definitive in form, like a flower or any detail of nature.

J?rgen Meyer was tough to google. He's using lots of resin in a way that bears some resemblance to work I was doing in the early 90's. Here's a clipping from ArtNet's review (Rosanne Altstatt), Report from Dusseldorf:
There the canvases by J?rgen Meyer, lavish brushstrokes in orange oil layered over a translucent yellow resin ground, remind me of a little kid in a museum I heard say "I want to bite it!" when confronted with a work by Hans Hofmann.

Angela de la Cruz is tearing up the turf it seems from all the google hits on her name. This, in her own words, from ArtFacts.net:
"The first time I cut the canvas, which was in 1996, I hung it in the corner and it became like an animated object, but it retained all the characteristics of painting. The painting was called Ashamed. So even though the paintings have got this object-like quality they still remain paintings. It's very important that painting is stationed within the parameters of tradition, otherwise it has no meaning. I am trying to research the language of painting."
More stuff here.

I got this Adrian Schiess pic from that strange website that treats artists like stocks to be traded in the marketplace (shades of Public Offerings), ArtFacts. Click the link to see the strange statistical graph plotting his rank (?) over time. Hombre.
Here's something culled from a place called Villa Arson in Nice:
Adrian Schiess is a Swiss artist. For many years his works have been shown flat on the ground, as if deposited there, often on battens. These works are predominantly painting, needless to say, and "monochrome paintings" what is more, but not pictures in the strict sense of the term. They are part of a line of thinking (literal and figurative alike) about landscape, and about the links that the work has with what is around it. Like the painted metal of a new car, Adrian Schiess's paintings reflect their immediate setting, and emphasize the depth. But on the other hand, they also alter its qualities, by the intervention of colour and its variants.
And here's something from ArtForum at findarticles.com, a great reference site.

Paul Doran is out of the MFA block and running, many many google hits. This, from his Dublin gallery:
As Doran himself explains :

" The edges of the canvases spill over with paint residues. These residues affect the material presence of the painting as object, as the paint no longer represents a window onto an interior space but comes off the edges of the canvas interrupting the works? exterior space and thus that of the viewers. "


Posted by Dennis at October 15, 2004 7:34 PM