Good Stuff: Astronomy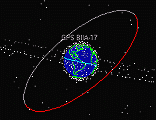 I've just discovered this fabulous site where one can anticipate the crossing of satellites overhead. They should be brighter than the stars but not as bright as the moon (of course). If you click the link: "Sighting", it will give you a map and time to spot overhead satellites. I anticipate hanging out on our deck from time to time (JTrack can pinpoint a crossing to the minute, so I can jet upstairs for thirty minutes)... the stuff of backyard astronomy: binoculars, warm clothing and a laptop.
And under the "Tracking" category, you can click on "JTrack 3-D" for a delightfully manipulable three dimensional rendering of earth and 500 satellites in scaled orbital positions. Fantastic. Just fantastic. (Static image above.)
Walking home late last night from the expat Brit bar "Club Europa", after toasting my cousin Joe off as he returns to Australia with a beer or two or four. We could see Orion low in the sky framed by Tossa buildings. I felt good about the earlier efforts to learn the night sky.
Hello Orion, hello winter.
(I came across this info from James Dunnigan's StrategyPage.com (one of the best military info/analysis sites on the web), provides another helpful link in this regard.)
Posted by Dennis at November 6, 2004 1:00 PM