John Millei

(John has a new dog, her name is Eva.)
One of the cool things you could do in Los Angeles if you are a painter is to drop by john Millei's studio and see what he's been up to. Such time spent is guaranteed to charge you up in your own garret.
He recently sent a few pics of his recent work. Let's jet down West Adams, South of the Santa Monica 10 Freeway, right before you get to the Blum and Poe part of town... you know, near the Helms Bakery Building... and get an eyefull:

Even though Los Angeles' forces of gentrification are edging in to this part of town, John's studio neighborhood is not on Starbuck's shortlist. Just finding the place will test your nerve. Junkies might hit you up for a dollar onthe way in.
Once inside the blue painted steel security gates, you are in a tough as nails real life working studio, a place that thoroughly tested as a site for serious painting for many years now.
Abundance, John is a horn of plenty, working in series and with multiple series at once... and he works big.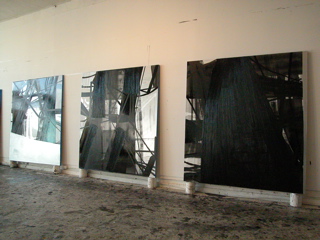 His ideas are solid and coherent and he works each series as a site to test his ideas. By ideas, I mean conjectures, questions, investigations that are embodied in pigment.
I can see the remnants of his "For Surfing" paintings, the undulating forms. And what is new to me is these new angular canvases. John hasn't dropped the explanatory narrative on me about these yet (really, it's better to do this in the presence of the work), but I see Piranesi, Sant'Elia, Coop Himmelblau... architecture.
By working thinly in layers that dry fast, he can deploy in large scales, several projects at once. Here, you can see the transparent fields of white glazes sending huge chunks of the composition into a deep background, editing and reconfiguring. Reconfiguring, a better term than compostion.

I was going to mention Lydia Dona's work in that my feeling (emphasis on that term) is that John has taken her pretentions toward... the mechanistic (a problematic term, but useful as an arrow pointing toward what I see as what might possibly be the subject of her work) and embodied it into the forms and materiality of painting.
Instead of picturing machines, John mechanised black pigment.

?Pero, cuidado eh? I don't mean to denigrate Ms. Dona's project, she is formidable enough to withstand my flea bite. But she does enjoy the appellation as a conceptualist. Such a designation requires a test.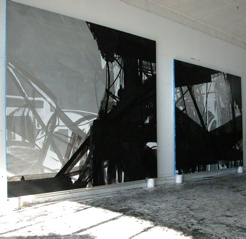 The cool thing about John is that he is an autodidact. He taught himself. (He also teaches at two universities in Southern California: ArtCenter and Claremont, so please let that abrade any suspicions of anti-academia.) The first attributes of this kind of background that I notice is that an art conversation with John will not traffic in fashionable terminology or second hand ideas. His thoughts are tailored and specific and hard won, not ready to wear. John looks at paintings in a way that is deeper than your standard issue MFA industry product.
He has a personal and detailed knowledge of Giotto's Procession Frescos, for example. A conversation with him about this is inuanced and personal. Moreover, you might be lucky enough to visit his place in Hancock Park and check out his mini pocket studio (a spare bedroom), wherein he traffics these Giotto thoughts in pigments and medium: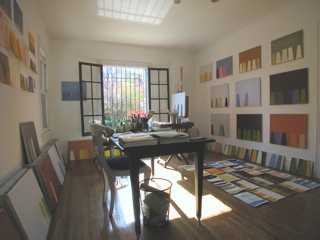 Posted by Dennis at January 20, 2005 11:48 PM