Brent Hallard
Brent commented on the blogpost that noted an article which asked whether it is mathematics that makes the world or is it the world (that's us) that makes mathematics... and ultimately it asks if there isn't a limit too, to boundless relativity.
So I figured that I would blogpost an answer and by way of doing this, introduce you all to Brent and his artwork.
First, check out his website and get a feel for what his work (painting and writing) is like. An Australian who had once lived in Germany, now married and living in Japan, a father to two great kids, a writer and critic, a invested painter whose eye/hand would find a context in Irwin's LA or Judd's Marfa... and from what I can deduce, a surfer.
There's lots to parse in Brent's writing, so I think I'll use the Fisking style of commentary, except this isn't meant to be done in the way that Fisking is usually employed (withering critique)... instead, I'm going to parse and ruminate a little:
I figure All the Stuff we do, if we understand it as something mirroring some greater whole does so via limited means available to us. Thereabouts!
Painting, then, is able to explain our accord with something that deeply moves us, an ?it?, expressed, but not revealed, using the feeble and humble means we have available. But understanding a painting, it?s essence, or its building blocks, even its existence, lay outside (the) painting, as what sparks painting lay outside ?it?.

Reading this makes me think of what Brent wrote in his latest online exhibition, where he refers to a poiint of view he calls Utopian Perfectionism:
"To be Utopian, is to put the utopian dream away for a while and practice reality. Reality divides us, and may not resemble in any way the utopian dream, but it does not matter. The moments that tie us are utopian, and usually are low to do with matter.
To look for perfection, and not get too hung up with perfections is important for this Utopian. A perfectionist reaches for the highest possible order, of idea, and form. A perfectionist must also understand the highest is not without the lowest. A perfectionist seeks perfection past the contradiction of high and low idea; of high and low form"
Interesting, he has his eye on perfection but he's not hung up on getting to heaven right-this-very-minute. He brings utopia (heaven?) down to earth by making a distinction between dreams and reality. Moreover, he makes the big connection, a continuum of high and low.
As for esthetics, isn?t it a collective idea (of painting, for example) taken from many inexact paintings (exact painting would no longer be called painting), and inexact translations, mixed up, or sorted out, through our limited means and fields of activity (?) -- and while the collected and reflected upon data would, does, produce a cacophony of entertainingly successful ideas, they could never produce the perfect mirror?a mirror to the whole; the singular; the pure; before esthetic.

I mull over this over and over: "...exact painting would no longer be called painting...", it seems he is countering the illustration of the writer of the article on whom I blogposted: "...painting that could also explain the principles of aesthetics..." this, an effort to illuminate G?del's famous theorem by comparing it to a painting. It seems that Brent is saying that a painting is not a theorem.
Hmmmmmmmmmmmmmmmmm.
'zat right, Brent?
There is beauty in the reflected parts, which our restless minds do everything to pull together as some ?depreciated? whole, but it?s only a truly rested and rebellious mind that can enter any part, and it's mirror, and head off course for a glimpse of a truer departure. I'm not a mathematician but I think math too would stop working when we exit the same way.

I encourage everyone to peruse Brent's writings in his website so that his unique poetic sensibility can be appreciated fully. "...rested and rebellious..." "...head off course for a glimpse of a truer departure..." It's like he pairs opposites to create a lens to shine lights into his writing. (I hope that last sentence is making sense to more than just me.) It seems to me that he is saying that if "to err is to be human", then art is woven of errors. Moreover, an error is an error only when it is in relation to non-error, or perfection. Therefore, to be human is to be strung in a continuum between the imperfect and the perfect... while simultaneously being oriented toward the perfect.
And even more, he's suggesting that beauty is not some disembodied Platonic ideal, but a relation of "depreciated parts"... that strains toward Plato's ghosts. Therefore, beauty is not in heaven (I'm all tippy toe right now, uncertain but giving it a shot anyway), beauty is here and now and not later. And with some strain, we might glimpse something true ...and that something true is not beauty?
I'm plotting our trajectories here as carefully as I can. And if this train of thought is on course, then a beautiful theorem is not necessarily the same as a mathematical truth. That sounds about right.
I like the phrase ?God does not make mistakes?, even though I have no idea what God is. But one thing I do know is it is we who make mistakes, and the more adventurous they are?

Brent, I think that you just might have an idea of what G-d is, an inkling at least. G-d may not make mistakes but humans do, and human history -art or otherwise- is woven of those mistakes... especially of those who are strung towards G-d.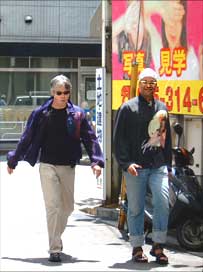 Posted by Dennis at February 21, 2005 11:28 PM