Last Lap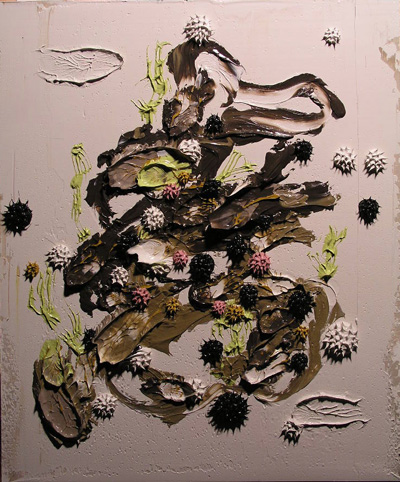 The original idea was to finish painting by Wednesday. We would then complete the week with a visit to Barcelona to scout out the SouthWest quadrant of the old city (Stephanie's new business enterprise is off the ground, more on that later) and then celebrate with dinners with friends to see the paintings and come out of my hermit studio daze -a triumph of self abnegation ;-) since coming back from K?ln over the X-mas holidays. I did not anticipate that my ability to stare for hours at a blank ground would soon outstrip my carefully prepared schedule.
At one moment, Stephanie approached me as I was working, offering to let me off the hook of rthe Barcelona trip. But no, I was determined to do it all, and trust -against all current signs- that I would be able to finish the final four works on paper before the shippers arrive next week to take the show to Germany. Relajate, tranquilo, hombre. As the calendar progressed, I mentally tucked away alternative plans just in case I wasn't able to finish the paper if I had to. I could ship them to Andr? via FedEx Europe if I missed the shipper's window, for example.
Returning from Barcelona last Thursday, I got back into the studio with a fourteen hour time frame before I had to transform myself from studio catepillar into a social buttterfly. I was able to get nearly everything done before our Spanish class at noon. Returning after class and grocery shopping, I had a window of a couple of hours that was more than enough to finish the painting.
And boom, it was done by five.
I started to clean up the studio. The plan was to serve sushi to our friends Kiko and Teresa on a table set up in the studio, paintings all around. We bought a bunch of stuff at the Asian food market when we were in Barcelona and we had just enough time to get the house together and prepare the dinner, our second try at making internet researched sushi.
The night proceeded in good stead, Kiko and Teresa puzzling over how to work the chopsticks, wincing at the tang of wasabi, all laughs and chatter in Castellano. Then there was a power failure in the old part of town and we ate by candleight. How wonderful it was and such great timing. Lights came back on in the streets but the house was still dark, so you could see the glow outside the window. The candlelight was bright enough to see the paintings in a different way.
At one point, Kiko asks me pointedly: "Dennis, do you miss Los Angeles? Do you miss your old home?" Yes, I said. He doesn't want us to leave, bless his heart. But I wanted him to be prepared for the day we have to return to LA. We don't know how it all will work out, but we we are fortunate enough to own houses in both Tossa and Los Angeles... and right now, we can afford to live only in one of them,,, but the original plan was to some day engineer a way to live half a year in one place and half a year in the other. We don't know how we are going to do it, we don't know if that will be the ultimate objective. But just as we had to come to Tossa de Mar to actually live and maintain this crazy building of ours... likewise, we will have to return to Los Angeles one day to do the same there.
Kiko was quiet for a little while after that.
Teresa kept the momentum going, explaining that Catalan was not a real language (she's Andalusian). By her account, the people of Kiko's generation (my age) learned Catalan at home while it was banned by Franco in the public at large. As a result, everyone has a different version of Catalan all over Catalonia, the variants dissapating the language into oblivion. I guess that's why Catalonia is trying to reinstitute Catalan in the schools. The trouble is that the kids are slipping in Castellano skills, while the variants of Catalan persist. All this, told while Kiko was away from the table, he would get angry. He thinks such divisions might shed blood again one day.
I was curious about what happened at Carnival, and Kiko told us about his costume, he was a pirate, complete with furious dreadlocks. I would have loved to see it, but that party had a three day price tag. Later, Kiko told us of the fishing off the rocks near the Codolar cove. I ask how big the fish are, and Kiko presents his palm, little ones. But you can catch a fish everytime you wet your line (and I remember swimming through massive schools of fish, this is true), and in a short while, you can have a quick dinner, cleaning the little fishies at the water's edge. Now, that's appealing to me. Soon, we will be eating sea urchin with pan Catalan and fried fish with a Spanish tortilla and some local wine.... oh yeeeeea.
When we served dessert, Kiko cracks a joke in a voice dripping with irony, eyes rolling up: "Oh... ice cream... how wonderful." It seems he has a running joke with Teresa that he is the king of warm houses. He and Teresa have an apartment at the other side of town, but they rent this crumbling old house, the one he grew up in, near us by the cove. They like the spirit of the older buildings. This year, he jerry-rigged an efficient cast iron stove in to his rustic palace, wanking the chimney pipe in a Rube Goldberg zig-zag from room to room and eventually plugged it into the kitchen chimney on the other side of the house. It was hilarious, the way he did it, this stout galvanized pipe drawing a fat line around his house. The result: temperatures of around 20˚ to 22˚ C/ 68˚-71˚ F (by comparison, our place is around 8˚ to 10˚C/ 48˚ to 56˚F). Kiko is the king of warm and toasty, a revolution of heat in a house where he grew up next to the sea and endless chilly winters... now no more. He likes to play up his comedic role.
"What is next... ice coffee?"
The clock struck one and of course, came the invitation to night cap at one of the local bars. Cell phones came out to rendezvous with other friends. We end up at a bar we had not yeat been to, just around the corner of the house. Outside the bar, the guys from the power company were out in force in their safari style ladder racked, equipment stuffed white Land Rover Defender SUV's. Happy Spaniards in full repair battle gear: hard hats, white overalls, knee pads, rigging harnesses, and complete with head mounted lamps. They were big boys with big toys and big smiles on their faces. The people in the bar could see them through the windows, and this was a particular entertainment in the improvised candle light. Beers went up in the occasional toast. Then the lights came on and shouts of "?Ole!", more toasts.
Joan and Monica were there, always smiling and ready to crack a joke. Kiko's childhood friend, another builder in town, came up with a beer in hand and well past the sobirety tipping point, speaking the clearest yet husky Castellano and testifying for us the exemplary character of Kiko. Well, that was already obvious, arms draped around shoulders all around.
Then Kike arrived. Kike (short for Enrique) was the guy who told us about Asimov's Foundation sereies and how the relation between the EU and the USA is foreshadowed therein, so we knew already where he's coming from. The USA bugs. And yet, he's very sympatico man by our measure. Kike is separated from our neighbor Peri, who adopted a Romanian boy, Julian. Kike's head is usually in the clouds (he has a lot to say of science fiction and politics) and he is strange enough here for the girls to move to the other side of the bar when he arrives. I think he's just fine, un buen hombre.
Kike told us of how he voted in the recent referendum -no- and why. He told us that he is a Communist, making sure to warily acknowledge our Yanqui identity. Apparently he didn't think the EU constitution served the Communist ideal well enough. All these normally incindiary ideas were transacted without rancor, and we both agreed that there are differences in which these political categories are understood across the Atlantic and over time. I reached for the deepest political idea we could hold in common, remembering that Communism was an attempt to overthrow historical European class differences, so I said to Kike that it is all about libertad... and on that slender but strong reed we raised our glasses in a toast.
I asked Kike about what he has been reading lately: Roscicrucianism. I kind of know a little about it, very little, so I ask if it is about Astral Projection, making a funny by pantomining a flying spirit from my solar plexus. Smiling, he described something about how one can form reality by a projection of thoughts in advance of our life-paths through the world. Or something like that.
The clock apprached four as we made our way home, just around the corner. The next day: Piet and Monique will come over for some jamalaya. The next week: Ramon will arrive witht he traveling frames (probably just-in-time) and the shippers arrive Wednesday or Thursday. I anticipate an all nighter with the power screwdriver. There will be no true rest until that is done.
Posted by Dennis at February 26, 2005 5:00 PM