Breakfast with Ramon
The other day, Ramon invited us for breakfast at his favorite bodega. Every time Ramon comes over to coordinate the fabrication of my panels, we open up a bottle of wine. We aren't experts on wine by any measure, but we think the wiine here is pretty good. Ramon provided the metrics: "Good wine goes down the throat without complications." ?Muy bien, hombre! We can find a three to four dollar bottles at the local grocery stores that will conform to Ramon's criteria. But we could tell that Ramon didn't entirely agree. So he decided to school us with a visit to his favorite tienda that sells five liters of very good wine for six Euros.
?Que Guay!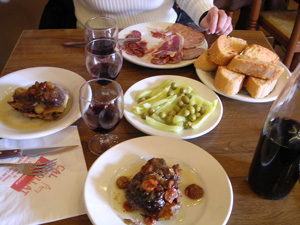 It was early morning and no one wanted me to shoot their picture, so here you have oblique shots. We knew this wouldn't be an American country breakfast, but lingering memories of a heaping stack of pancakes and (mmmmmm) eggs and bacon danced in our heads even still. Here you have a country b-fast, Catalonia style: Stephanie ordered what turned out to be an assortment of sausages, and for Ramon and me: what Ramon described as "...the meat from the cheek of the pig...", he said, patting his own cheek, smiling sweetly.
Now I didn't do this easily, but if I eat buttifara (a pork sausage popular here) with relish, why stop at the meat of Porky's cheek?
A close up on the cheek:
At least I didn't see teeth. There's not much meat on the jawbone... but boy was it delicious!
Now,
Imagine eating this under this visage:
Posted by Dennis at March 1, 2005 3:12 PM