Cologne

We're back from a great week in Colonge.
Let's see what made it into the Coolpix memory:

As we arrived, the paintings were being hauled in.
Across the street.
A street with heavy traffic.
What timing.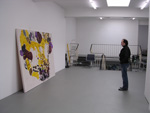 Andr? was getting over a flu.
Despite this, we spent the day installing the show.

It's an unusual gallery, the spaces telescope larger as you enter it, each getting larger and larger until onje encounters an apparent rear wall... and then there are a slip of stairs to yet a larger space below Andr?'s office.
The installers were interesting guys. The one one the immediate right of Andr? (I've lost his name) is a writer of screenplays who will be studying soon in Israel, the other (Andreas) is writing a book on Peckinpah. He was telling me that there is very little written about this director in German literary media, and none of the films are translated very well at all. I drew him out on the topic and I enjoyed the conversation a great deal.


My philosophy on installations:
Let the gallerist drive the decisions, a light hand. Once the paintings leave the studio they are arranged and hopefully, rearranged by many other agendas than mine.
In this case, hanging a rythmn of works that increase in scale as you proceed is a natural. Everyone will have a different idea about the synchopation (ojala). It's important to me that the gallerist owns the show.
The paintings should be able to survive that.
Posted by Dennis at March 14, 2005 9:45 PM