Hiroshi and Yoshitomo at K21

We (my wife Stephanie and my cousing Margaret) ventured forth to attend Hiroshi Sugito's and Yoshitomo Nara's collaboration at K21... this, a contemporary museum in Dusseldorf, we found it on a wet and cold Saturday night.
Here, the ArtNet link in German.

Somehow, the interior gave me the impression of an art school. It felt like a seminar would begin at any moment.
Also, the bar was a Jorge Pardo? production, very Pop, very stylish, thrown together by the most talented fruit of the artworld.

Group shot: I'm the one who looks like I ate a bug. Margaret is beaming, Hiroshi is patient and Yoshitomo offers one of his comic guises (or is it the other way around?).
Four faces for a camera.
We all look better than this.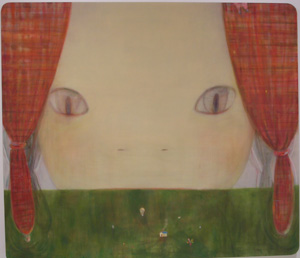 I wished I took better shots. I should have over cruised the gallery, shooting too many pics. The few images of the show here do little justice to the show, which was luminous and haunting.
Hiroshi and Yoshitomo collaborated for three, three week periods last summer in a studio in Austria. Fueled by endlesss cups of coffee and discs of music, Hiroshi said they mess around for the first two segments and fevered through the last to pull all the threads of the show together in time.
I think they were better threaded than that.

K21 published a fine catalog for the show. The narrative armature of the collaboration: The Wizard of Oz's "Over the Rainbow" was a title given by the duo eighteen years ago when they met at art school. The writers for the catalog thrashed the theme in a heavy handed way, not realizing how lightly Hiroshi and Yoshitomo treated such things. Give these writers a handle and they swing it round and round.
Even so, we should be so lucky as to have such a book published on our work.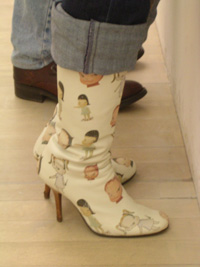 Yes, some wore shoes, Nara stylin'. A group of Japanese girls flew in, in adoration. Some had to telephone their parents who didn't know that their daughters flew half way around the world to be near Yoshitomo Nara (and Hiroshi? I'm not sure, but Yoshitomo is a rock star in Japan).
Some notes taken from the show's catalog:
Doris Krystof, Bernhart Schwenk
"If You are Lucky, You are Hit by the Window"
Another element in Nara and Sugito's paiting that is always present, but has not been mentioned here, now becomes clearer. This is melancholy. When artistic production involves self-reflection, it refers to a lived childhood, individual and collective, to which there is natually no return. There is a poem by Yoshitomo Nara on the inexorable nature of passing time: "Time passes by/ Before it fades and vanishes. I want to make it last... Imagination doesn't stop for the past or the future. And that makes me both happy and sad."
Music:
Yoshitomo:


Ramones
Shonen Knife
Mary Hopkins "Those were the days"
Die goldenen Zitronen (Porsche, Genscher, Hallo HSV)

Hiroshi:


Flaming Lips (Oklahoma City)
Jet (Aussie Guuitar Band)

There was also an account of the collaboration:


"...working together often remained a challenge for both artists. The coordination of two ultimately completely different temperments demmanded great stamina. Nara plans his work as units, implementing a picture in one go before moving on to start a new one. A picture he sees as failed is never revised, but rather destroyed and started afresh. Sugito on the other hand works much more slowly and on several ideas at once. He paints over previous attempts and changes individual parts..."

Stamina or no, I bet they loved all three, three weeks of it.

My 'cuz and the misses.

I still look like I ate a bug.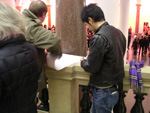 Michael Zink (not pictured), of Galerie Zink and Gegner, a munich gallery was with Hiroshi and Yoshitomo. A very nice guy, affable and open. Rare.
Afterwards, we ate at a nearby Greek restaurant, the place was packed. Yoshitomo went to art school here in Dusseldorf, so it was a homecoming for him. We talked of color and Austria and the studios these guys have built/are building in Japan. Hiroshi's place looks like a NASA lauch pad, blue steel raming the interior into three stories, clad in concrete panels... Yoshitomo is building his place near the Emperor's summer retreat, tatami proportions and wood structure.
Hiroshi was worried about Yoshitomo's diet, saying that Yoshi needs a wife so that he would eat better (he was probably thinking of Stephanie's effect on me). I ordered rump steak and potatoes (what's Greek about that?). Yoshitomo ate two of my potatoes, that was all he ate that night.
Lots of beer.
Posted by Dennis at March 15, 2005 10:02 AM