Real Estate: Borne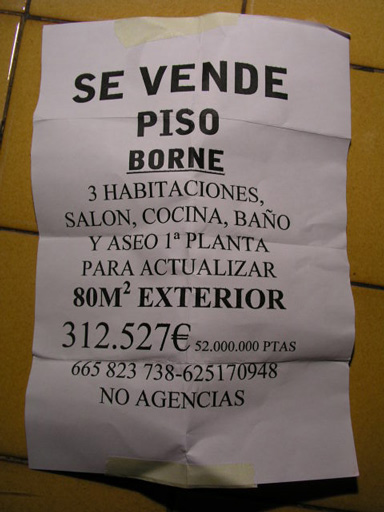 We went to Barcelona last night. I bought a few supplies at Barna Art, "Materiales de Belles Artes" and Stephanie shopped for clothes. I found this ad on the street in the super cool district called the Borne. Let's see what it says:
-For Sale
-Apartment/Condo
-Borne
-three bedrooms
-living, kitchen, bathroom
-what does "ASEO 1a Planta" mean?
-or "PARA ACTUALIZAR"
-(Area Conversion) 861 square feet Exterior (facing?)
-price: $405,160 US Greenbacks
OMIG*D! over four hundred thousand frickin' dollars for less than a thousand square feet?
AND they claim it has three rooms?
Posted by Dennis at April 1, 2005 9:23 AM