Cousins

The beginning of the summer is inaugurated with a confluence of cousins. We ate at Can Soms, a down home restaurant at the base of their hostel that specializes in Tapas geared for the locals, decidedly not touristic food. In the foto above, I pull back for a panorama that includes the proprietor, Alberto. He had the city council meeting on the television (TV Tossa) and the whole time, he was cracking jokes. Alberto is a natural comic, he can just stand there and be funny. A fisherman and a nudist, he likes to combine his interests, surf casting super Costa Brava stylin'. Jusst ask him, he'll tell you all about it.
(For my hard core artworlder friends: This is a family info post. Don't click "continue". Nothing to see here. Move along now. Keep it moving.)

Gina and Jade. Nearly all of my mother's side of the family immigrated to Australia from Manila back in the sixties. The kids are full bore Aussies. Gina works for Nestl?, coordinating their intra-business communications via the internet (well, I barely understand her job, this is a sketch).

Gina met Alex here in Tossa, sunbathing on the beach, actually. Alex is from Tarragona (I think his Castellano accent is fantastic) and he's been acclimatizing himself to Australia very nicely. A strong creative character, he's specializing in decorative ceramic tile design. He's a painter too.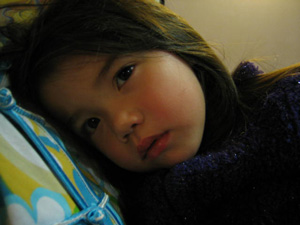 Their daughter Jade took a liking to me at first sight, the way some kids do. She was tired, a long day for her. I wished I had taken pics of her earlier, she's so beautiful. Smart too. And she doesn't seem to have inhibitions, the shyness that most kids have. And what's more, she is confident without being obnoxious, very sweet. I liked seeing Alex interact with her, an attentive father who carefully and gently stewards her learning curve. Everyone in the family is happy to have him in the fold.

Patricia was on vacation, fresh from Kabul. She works in the international humanitarian aid field... she deserves her own blogpost... nee, a book. I'm going to have to interview her carefully so I can competently recount her story later on here in the blog. She owns an apartment here in Tossa as well. This week, she wasw nearly drafted into an assignment to work in Uganda where some "Lord Rebel Child Army" was stirring up trouble. More on her later, fascinating stuff.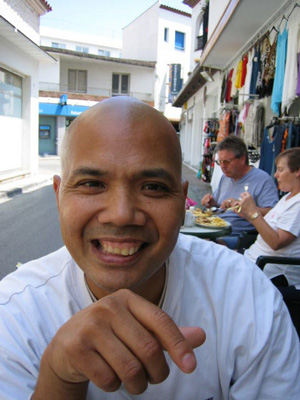 Cousin Joe couldn't make it that night, so I caught up with him for lunch the next day. He's living in Tossa, working for an English family who are property developers. He says that they are big thinkers, constantly hatching real estate schemes on scales that boggle the mind.


They are the kind of people who, when they have to travel to England, they pull the helicopter out of their hangar and off they go. ("Get out of here. No way!" I respond in disbelief.) Joe says it takes two refueling stops to get there. This detail persuades. He says that they often survey their land from their bird's eye view... and I crack jokes about celestial loudspeakers.

I showed off our new camera (Canon Powershot SD200 y'all). By the way, it turned out that our Nikon didn't crap out after all. (!) The batteries were shot. (heh, er... yup, feet shuffle) I tell Joe about the Tony Cu?ha advice and he gives it a try.
Well we'll have to practice it a little more.
Posted by Dennis at June 8, 2005 1:34 PM