Burger and a Beer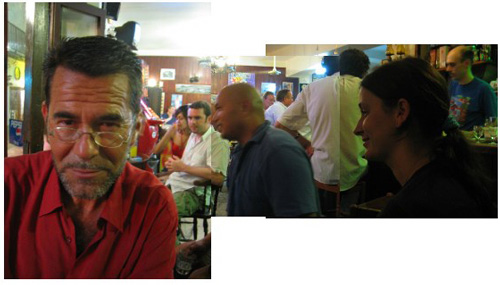 Around dinnertime (10-ish), Kiko called to see if I wanted to have a burger ar Bar Joseph. (I make the mental calculations for the good of the studio. I figure that I can do it.)
Sounds good, Kiko!
Kiko's been out all day in the water with his daughter, skiing. My cousin Joe and his girlfriend Verete show up with friends from London. All is good.

La Paca, aka "Ciclona" is a regular at Bar Joseph. She performs nightly at the Flamenco Bar and a nightly chupito at Bar Joseph is a pre performance prep ritual. I had to get my pic with her for the sake of posterity.
One night, I showed up wearing a wrinkled shirt... and that didn't go down well with the conventions here in Spain. Bad form, that. La Paca suggested... strongly... that she iron my shirts. All I had to do is drop it off at her place every week and she would take care of my appearance in a very good way. Now, bear in mind that she is a little sweet on me... very tender she is. I resist. She insists. It becomes a running joke. Finally, I tell her "?Cuidado, eh? ?Tendr?s consequencias!", my palms up, patting the air. Everyone laughs, knowing the implications. Game over.
La Paca is sweet.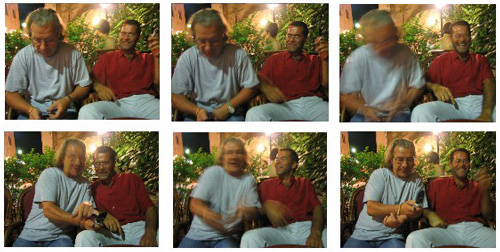 After Xerlo's boat sank, he promptly went out and bought another one. A bigger one. That meant that tommorrow he will have a shakedown cruise and we're all invited. Ah so.
The urge to get back to the studio surged. My friends teased me about having to skeedaddle out of the party pack. I remarked how ironic it is that here I am in Europe, and it is my European art dealers who have scheduled -for two summers in a row- shows to open in August... the very month nearly everyone else are out on vacation! ?Ostea! ?Joder!
But, I'm lucky that I feel good about what's happening on canvas. (Fingers crossed.) But every minute is critical.
Life's short. Do it all.
Posted by Dennis at July 30, 2005 9:23 AM