Buchmann Galerie Berlin

My gallery in K?ln has moved to Berlin and this is the weekend of its opening there. Andr? Buchmann has found a space near Checkpoint Charlie, a great location, an ultimate margin... the very urban condition of Berlin itself.

All the shots here were shot on my flythrough visit as I returned from my show in Haarlem. This pic, a view out the gallery door.

I had arrived on the same day Andr? and his crew did. They were unloading and opening up their cargo, elements of a gallery's innards.

Hands akimbo, what to do first, second and third?

Where's the local hardware store?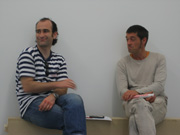 Where can we get coffee?

A great change. A new city, a new place to live, an enlargement of community.
First up:
DANIEL BUREN
voir se voir savoir
28. September - 12. November 20
Posted by Dennis at October 3, 2005 2:26 AM