Kind of Red

The studio is small, but there's this nice adjacency of the New Dragon Restaurant's stairs. The entrance is on the other side, so these steps are all mine, in a way. The width is nearly the same as my studio, so a virtual room is figured in the street before me.

(One shot can't convey the passage of time. So here's a reel.)

In short: I can sit there for a long view of painting-in-progress.

Standing outside, I can see (simultaneously enough) a close up and a panorama. The human eyes+brain sees dynamically- a kind of view that a camera can only approximate.
So here I zoom in.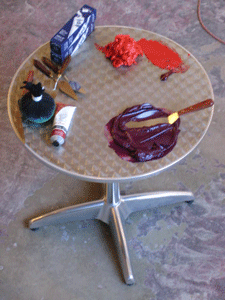 So far, I'm setting up for a skirmish of back and green over red. The big question is what kind of red. It's a big decision since any action off he center of this intention will drive me off into divergent territory. And diverging is bad bad bad... this time.
I mix paint, testing things out.
Converging. Now, that's the way to go.

So...
What kind of red. What kind of red.

It so happened that I had a pepper in my hand.
(I've taken to eating them like apples.)
Well, there you go.
Many kinds of red...
...right in my hand.
Posted by Dennis at November 19, 2005 12:52 AM