Fly, Freak Flag.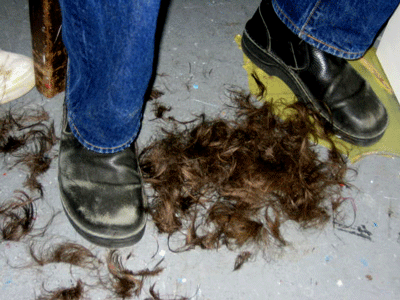 What gets blogged on this site? What I try not to do is a "dear diary" kind of blog... what a cesspool of narcissism that would be. I try to keep the topics directed toward the paintings, the artwork. Sometimes the topics are directly pointed toward painting. Sometimes I try to convey the character of the environment in which I am painting. And sometimes the posts may seem arcane as I let my freak flag fly high, trusting my intuition that everything will add up later.
Two examples:
1. Our new bathroom:


We still have several odds and ends to wrap up this project, but the major aspects are in place. We wanted to use tile up to a wainscot and the first question was exactly what kind of tile we would choose. We poked around, considering material like limestone... until we realized that keeping to the 1923 roots of the house. So we conjured the thought of a Raymond Chandler type hotel bathroom, spotting this kind of design in a old restaurant nearby. After that, the choice of green and black was the big design "move".

2. It was a late Saturday night in ChinaTown. I had just taken Stephanie to the airport as she business trips into the FarEast for a week or two. Since returning here from Europe past mid September, we've been fire drilling with home/studio preparation/improvement projects like crazy. And now after the Thanksgiving dinner, our to-do list has been boiling down to reasonable proportions. I'm looking at a short and intense period of time with only painting on the agenda. It's like the feeling just before you run the marathon, feeling fit and vaguely unaware but blissfully oblivious of the pain and stress that accompanies the looming depths of the coming experience.
Belly to the bar at Hop Louie, I opted to sit out the opening nearby. I was moving my mentality to converge in the studio and an immersion into a pool of divergent opinions and ideas didn't seem what I needed at the time.
Joel walks into the bar in a similar mood. He didn't want to talk to other people, he felt out of sorts, buggy. He had been growing a mane of hair on his head for a while, a triumph of hair. He was looking very old Testament. I wish I could do that. But joel had had enough of it. It was time to shear it off. Shear off the history, the baggage, the encumbrances, a worn identity in many ways.
Phil had the equipment next door. I tagged along with a camera: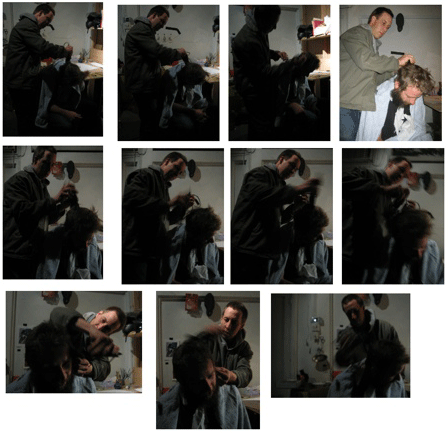 A new man. Joel had cut his freak flag down a bit.
Posted by Dennis at November 28, 2005 5:26 AM