Couch Paintings

The night before last, the five of us found ourselves belly up to the bar at Hop Louie. A congress of ChinaTown painters in full spectrum: Raffi Kalenderian, Bart Exposito, Joel Mesler, Henry Taylor and yours truely. A beer, two and the idea drops... why don't we spend the evening painting together? Sounds like a party.
So we convened at Henry's studio/pad and mixed it up a little. Henry's a great host. Music, drink, paint. It was natural and everbody worked together like good musicians (or so I imagine since I can only whistle and hand clap). Everyone had a voice, didn't step on each others' moves, there was no grandstanding, no ego, and you can see everyone's hand.
Kismet.
Everyone knew this too.
Jokes and laughing and ideas skit-scat. Everyone got into the work with an easily marshalled rapt attention, all eyes on the ball.
We ended up giving the products of the evening a title: "Couch Paintings", with everyone signing the back of all the paintings. "Why don't we haul out the couches into the hallway and sit the paintings on them and have an opening?" Everybody liked the idea of a grass roots show, down home community stuff, keeping it real, stepping off the suffocating formality of conventional presentation. I liked being open to other approaches, an opportunity to break old patterns and see how the other guys get into their groove.
A toast and a pact. No one dared to spoil the moment by grasping it with the idea of doing it again on another night. If it's natural, it'll happen again.
Here's a few pics without a lot of hablaba: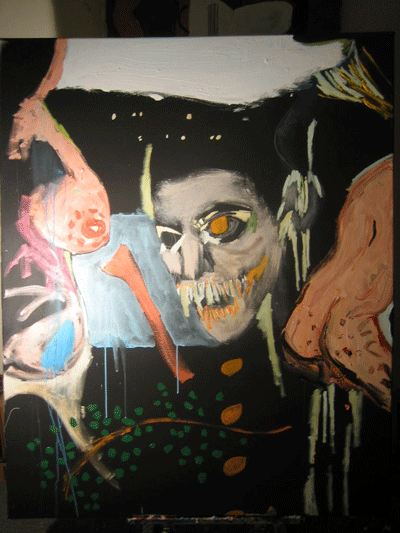 Posted by Dennis at March 15, 2006 10:04 AM