Violet Hopkins

My first intention was to blog these install fotos of Violet Hopkins' show at David Kordansky Gallery... before the show opened. Much of life's blog material spills through my fingers, especially since my fingers are painting most of the time. Lately, I have been getting requests to blog artist's work, since people tend to see what I am doing in this medium as promotional (wrong) instead of charts of my free curiousity (right). Ms. Hopkin's work caught my eye and camera's trigger finger sanpped these shots to share with you, my loyal readership.
On the afternoon of the opening, I was thrashed by a migrane (I used to get them all the time many moons ago, they're rare nowadays) and I scootered home past the show feeling nausea and a throbbing head. (Too much information, I know.) Too bad, I would have liked to have met the artist.

What was interesting after the initial draw of large format watercolors in giant frames, was the phenomena of David Kordanski (white t-shirt) pouring his attention into the installation. Fastidious, precise, attentive, relentless. He was challenging: "Dennis, what do you think of the work? No, really. What do you really think of it?"
I like it. I wouldn't blog it otherwise.
Here are some pics:

Abstraction and representation, straight out.
Snakes in the grass. Danger in paradise. I thought of the elegaic futility of Joni Mitchell's song "Woodstock" and a longing for the garden, a return to Eden, a desperate claw back into the womb. I guess we need to be reminded that Mother Nature can cut you too.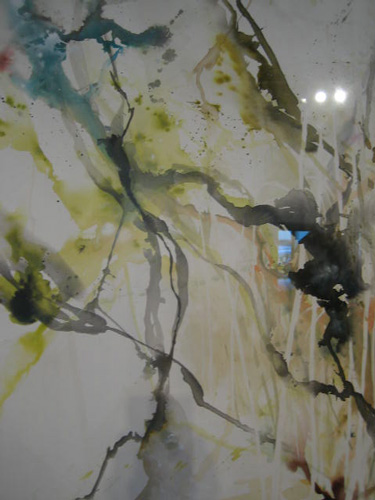 And then, the edges reveal something else other than commercial grade renderings. The non objective and the objective cheek by jowl. I like the physics of flung paint. Fluid dynamics, orbiting centers of gravity, surface tension and the ballistics of globules. Water colors spray in a particular way with long strings and tight spatters, more like blood. Then I noticed other markers of intention: resists and interleafing. There is a lot of watercolor knowledge here. Skills, as the (computer) gamers would call it.
At first, I thought that she was cradling a pallette brimming with tinted colored water and as soon as she rendered the images, she would fling the watery contents against the margins in a passioinate fit.
Then, I noticed that the flings were buried in the base of the images.
So much for the romance of the wild artist. That's okay. I didn't really like Nolte's version of a shirtless passionate rock and roll painter anyway. Too much romance takes us out of art's territory (not enough can't keep us in, though). There is enough wildness there in Violet's hand to sling the medium around like this. Timid people can't fling.

Across the room, another example.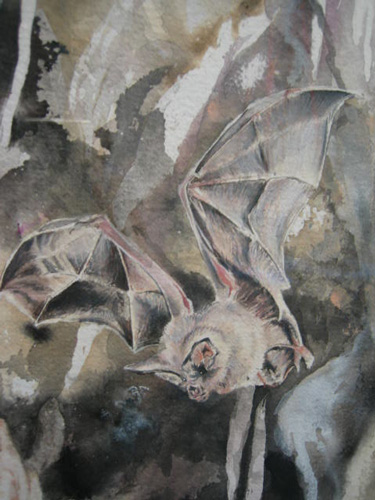 I began to see the rendering with an eye that was educated by Marvel Comics.
Looking at this, I expect the next panel to reveal a caped crusader pacing in a bat cave.

Run, colored water, run!

Posted by Dennis at May 1, 2006 1:41 PM