Opening Night

The reception was a blur, but I sqeezzed off a few shots after all. A few notables came in but I chose not to exploit their visit with a digital pic and grab. I'm pretty low key with the camera, at least that's my policy. I went over to get a beer and pretty much held that position most of the time in the mode of meet-and-greet.
Above, Aaron Parazette and Tom Moody. It was particularly nice to meet Tom in the flesh for the first time.



Jason Young and his girlfriend Simone stopped in to say hello.

Simone's little girl was a fairie pixie, as if she had wings aflutter.

Then, she grabbed my camera and turned the P.O.V.
Not bad for a pixie.

As the pixie reached for the paintings, galery director Ruth Phaneuf gently related the hands-off policy for art openings.

Sharon Englestein and Aaron Parazette flew in to town. So awesome.

Doug Henders (right), an artist and longtime blog correspondent with his friend Gavin.
Thomas Nowskowski had a show of works on paper next door at Bravin Lee's new space. I wish I had snapped shots of his packed opening.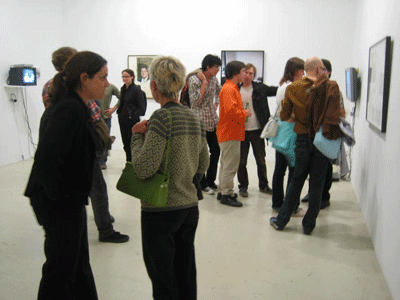 And here's a shot of Matt Keegan's project room.
Posted by Dennis at May 12, 2006 10:43 AM