Barcelona This Week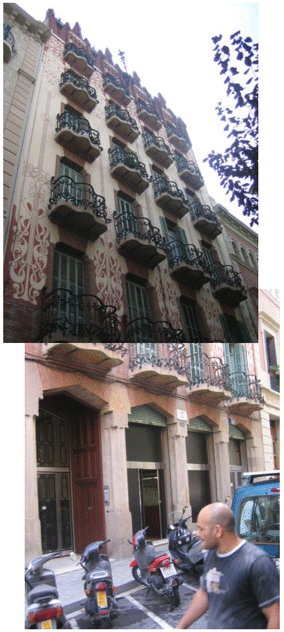 This is a shot of a building in Gracia, taken the day before. It fronts a public square faced by a church. There's not much more that I can tell you about this edifice except that it caught my eye.
It was the first time I went into this part of town. I had heard many good things about Gracia, that it is a local neighborhood without many tourists straying into it, cool, normal, human scale, ideal. And that's about right. Gracia was a little town outside of Barcelona when Barcelona was within encircled defensive walls and everyone wore tights and daggers. Then they built the Paseo de Gracia and the metropolis filled in, later with the regularizing grid of the Cerda Plan.
Well, that's about it for the historical overview.
Here's a few pics I took while venturing into Barcelona this week:

Alberto and I met up with Gemma and took the subway to visit the exhibits at the Caixa Forum in Montjiuc. The big draws: Henry Moore and "Animated Stories", a show of animated films that features William Kentridge as the flagship artist in the group show. Here's a snippet from the brochure:


Reality is becoming less and less similar to reality. Never before had images contained so much information and disinformation in a single take, a single frame or a single pixel.

The discrediting of the image, whether photographic, filmic or digital, as a certificate of reality has fostered other ways of recounting our life experience. Thus in recent years we have been witnessing a fruitful meeting between art and animated film. one of the main aims is to deal with the themes related to "what happens to us" in forms of representation that are directly linked not with analogy, but to fantasy and magic.

The tales in the "Animated Stories" exhibition are therefore not fictions, but schisms between the world and its representation, as William Kentridge's installation, which opens the show, wonderfully evokes. And since reality is increasingly indescribable, animation conjures or suggests it, resorting to strategies that are sometimes ironic, sometimes lyrical and most often fantastic. In this exhibition, the artists patrol the boundaries of what cannot be said, of what is and is not appropriate; they give fantasy back its ability to opt for different declensions of truth. And this is, essentially, a political task.

Translation: artists are getting into animation, so let's see what they are up to.
What I saw: the best work told stories of course... and there weren't many stories in the show. Artists noodling with animation merely made drawings that moved. There's my critique. However, I don't blame them for their riveted fascination- I would have been transfixed too. But it is revealing that when the moving drawing weren't depopulated, the rendered figures tended to be faceless cyphers. Surprisingly, the show demonstrated to me that moving pictures of all types, especially the ones we grew up with, were rendered with human strum und drang and not graphite, ink, pixels or anything inanimate.

The Caixa Forum is a remarkable place. I'm typing this outside of a wifi signal, so I won't be able to research the background and drop nuggets of historical information for you. But my rough rendition is that this historical gem of a building was rescued by a corporation and a public exhibition program was installed. The place is beautiful, generous, and well maintained.

Like most artists, Henry Moore's early work is revealing, bright and shiny in the reflected light of later success. Looking at the first galleries, plans to chip stone and wood in my backyard in LA began to germinate.

The drawings and the legend of the later forms born in wartime London bomb shelters. There is a theatrical atmospheric thing that dropped out or got sucked into other formal aspects in the later work. Thinking about the political ambition dropped into the text of "Animated Stories": the politics of WWII weren't fronted in Moore's sketchbook. And for all of the political ambition in "Animated Stories", what is there is weak, flaccid or stereotypical.
Sublimation as an artistic political alternative has a lot going on for it.

So we went to "Camper" to sate our hunger. A strange place, it is a shoe store that expanded into a hotel and a groovy fast food joint... all this in a row in the base of a building in a great part of the Raval, just around the corner from MACBA, the contemporary art museum. This looks like the current fashion in global corporate strategy: to extend your brand into other markets. In this case, rice balls with third world overtones. You can break your twenty euro bill and feel as one with the strivers in other continents.
Here's a few pics of my compa?eros:

Alberto said: "?Ponte su Dior, por favor, ponte su Dior!"



Gemma is starting her final year in university, majoring in public relations. Alberto and I have been talking about a project this summer and we invited Gemma in to beef up the core team. Not much can be said at this point, more to come for sure.


The day was getting late, so we skirted the show at MACBA and as we cruised through the Richard Miers environs, I stopped to record the way classically modern architecture is a gift from G-d for skateboarders worldwide. I wonder if LA's Getty Museum is as hospitable for the skateboarding teens and near teens?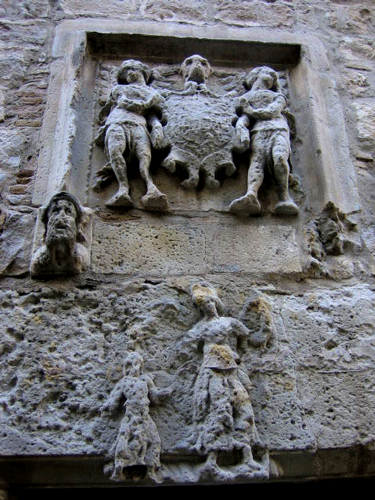 As we jetted toward the bus station, I snapped this portal near the museum. It seemed to be the right thing to do after the Henry Moore vibes earlier in the day.
Posted by Dennis at September 20, 2006 12:39 PM