Titulos


Titles of the paintings follow.
All are hyperlinked with notes as appropriate.

First Contact
ww#258
Oil on Canvas over Wood Panel
125x116 cm
This title has, for me, a kind of dry quality but I felt it to be appropriate in at least a couple of ways. In the center of the canvas, there is preserved in part, the actual first touch, the image which led and ended the blogpost hyperlinked here. First paintings after a hiatus are interesting in that they tend to be approached with a fresh head and not a little trepadation... a great combination. Preconceptions follow and to a certain extent neccessary if there is any value in an arc of development in a brace of work.
This painting was an effort to bridge two kinds of painting that I have nursed up to now: a screed of paint laid down with pallette knives, which has a tendency to obliterate any marks made before it; and daubs of paint pressed down with "pointillist" tendencies. One contends with the other and the question in this painting was whether I can make a kind of emulsion with these two antithetical approaches. I had made a couple of attempts that skirted this issue before, and this time I wanted to give it a stronger try.
***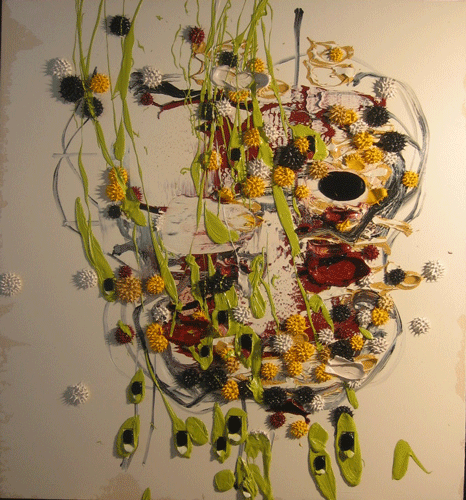 Big Hoss
ww#259
Oil on Canvas over Wood Panel
125x116 cm
The title for this one came from the name I appended onto the large jpeg in the hyperlink. Tacking away from the previous painting, I steered towards the figurative with a retrato (portrait) format. I was looking at an older work on paper that I had painted and left behind from last year.
You've got to pay attention to the things your eyes return to.
***

Horizon Lines
ww#260
Oil on Canvas over Wood Panel
125x116 cm
The title came straightforward from the blogpost title. Click on number one for the pop up to see where I was coming from.
***

To Live is to Struggle
ww#261
Oil on Canvas over Wood Panel
180x160 cm
"Time to move on."
***

Snorkel Report
ww#262
Oil on Canvas over Wood Panel
180x160 cm
The link should probably refer to
this post instead
:
Things get more interesting when I kick down vertically, holding my nose to equalize the pressure in my ears, and the horizon line is upside down with the seabed in a new sky looking for all the world like storm clouds in an intensifying gradiated blue. It's like that game we played when we were kids: we watched someone's mouth speak upside down. Didn't we all do this? You cover the rest of the face and isolate the lips, maybe you painted eyes and drew a moustache? Let's call it a Ren? Margritte effect, making the familiar strange. The scene is so arresting that I have to remind myself to avoid smacking my head on the rocky bottom.

This is probably the more representational paintings that I've done recently. I have mixed feelings about it. Straight ahead rendering doesn't go down easily with me... it's hard to describe why.
***



King of a Sceptered Isle
ww#263
Oil on Canvas over Wood Panel
180x160 cm
After a scrape off, I was pretty much destroyed at this point. The green monochrome tack was a way to steady myself as in the way babies look at their hands when they get overwhelmed.
***

Dead Reckoning Tracer"
ww#264
Oil on Canvas over Wood Panel
180x160 cm
This painting was a reprise of the first one, something I had intended to do for sometime at this point. I was curious if a scale change would alter the basic attack that I had enjoyed in the first painting, "First Contact".
Not much, really.
I've been day dreaming of painting in this way for the first canvas when I get back to Los Angeles.
***

Frozen Blood"
ww#265
Oil on Canvas over Wood Panel
125x116 cm
Regina's email provided me with a title for a painting that meshed with the gears that ran or stripped in "To Live is to Struggle". This one gets a bit personal and I am not in a position at the moment to explicate further.
Stay tuned for memiors in the twilight of my life. Then all hell will break loose.
***
Posted by Dennis at September 23, 2006 7:46 AM