"Oh shit, look what I've done..."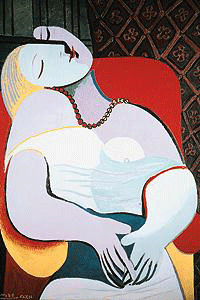 The morning news led me here, (writer Nora Ephron's blog in the Huffington Post):

...There, on the wall, were two large Picassos, one of them Le Reve. Steve Wynn launched into a long story about the painting -- he told us that it was a painting of Picasso's mistress, Marie-Therese Walter, that it was extremely erotic, and that if you looked at it carefully (which I did, for the first time, although I'd seen it before at the Bellagio) you could see that the head of Marie-Therese was divided in two sections and that one of them was a penis. This was not a good moment for me vis a vis the painting. In fact, I would have to say that it made me pretty much think I wouldn't pay five dollars for it. Wynn went on to tell us about the provenance of the painting - who'd first bought it and who'd then bought it. This brought us to the famous Victor and Sally Ganz, a New York couple who are a sort of ongoing caution to the sorts of people who currently populate the art world, because the Ganzes managed to accumulate a spectacular art collection in a small New York apartment with no money at all. The Ganz collection went up for auction in 1997, Wynn was saying -- he was standing in front of the painting at this point, facing us. He raised his hand to show us something about the painting -- and at that moment, his elbow crashed backwards right through the canvas.

There was a terrible noise.

Wynn stepped away from the painting, and there, smack in the middle of Marie-Therese Walter's plump and allegedly-erotic forearm, was a black hole the size of a silver dollar - or, to be more exactly, the size of the tip of Steve Wynn's elbow -- with two three-inch long rips coming off it in either direction. Steve Wynn has retinitis pigmentosa, an eye disease that damages peripheral vision, but he could see quite clearly what had happened.

"Oh shit," he said. "Look what I've done."

The rest of us were speechless.

"Thank God it was me," he said.

For sure.

The word "money" was mentioned by someone, or perhaps it was the word "deal."

Wynn said: "This has nothing to do with money. The money means nothing to me. It's that I had this painting in my care and I've damaged it."

I felt that I was in a room where something very private had happened that I had no right to be at. I felt absolutely terrible.

At the same time I was holding my digital camera in my hand - I'd just taken several pictures of the Picasso - and I wanted to take a picture of the Picasso with the hole in it so badly that my camera was literally quivering. But I didn't see how I could take a picture - it seemed to me I'd witnessed a tragedy, and what's more, that my flash would go off if I did and give me away.

Steve Wynn picked up the phone and left a message for his art dealer. Then he called his wife Elaine. "You'll never believe what I just did," he said to her. From where we stood, on the other end of the phone call, Elaine seemed to take the news calmly and did not yell at her husband. This was particularly impressive to my own husband. There was a conversation about whether the painting could be restored - Wynn seemed to think it could be - and of the two people in America who were capable of restoring it. We all promised we would keep the story quiet - not, you understand, to cover it up, but to make sure that Wynn was able to deal with the episode as he wished to until it came out. We all knew it would come out eventually. It would have to. There were too many of us in the room, plus all the people in the art world who were eventually going to hear about it.

Meanwhile, we were not going to tell anyone.

We promised.

I promised.

I wonder if "Le Reve" is more valuable now than before the Wynn touch?
Posted by Dennis at October 17, 2006 10:41 AM