U-Turn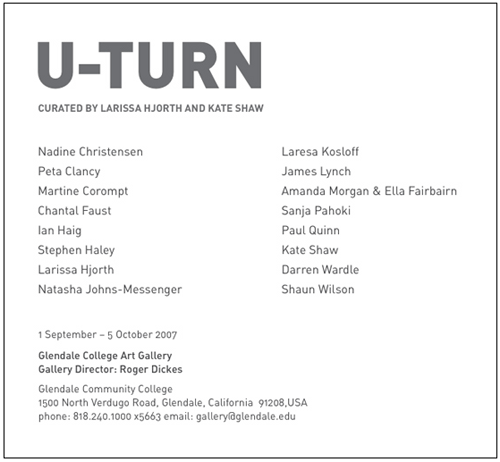 Besides being Roger's gig, this line was my lure:

U-TURN

Note: Opening reception is September 8, from 4-7PM

The Glendale College Art Gallery opens the 2007 - 2008 season with its first international exhibition. U-TURN, a show organized by two Melbourne, Australia-based artists, Larissa Hjorth and Kate Shaw, has been funded in large part by a grant from also Melbourne-based Arts Victoria (http://www.arts.vic.gov.au/index.htm).

The sixteen artists named above will be featured in this show, and the selection of work is broad enough to touch upon a wide variety of approaches to art-making: from painting to photography, from single-channel video to video installation, from sculpture to architectural intervention. For those here in Los Angeles, U-TURN is an opportunity to compare our practices as artists (and the art-obsessed) to that of our counterparts in Australia...
(Emphasis mine.)
Half my family lives down under, we lived there for a short while when I was a kid.
Posted by Dennis at September 4, 2007 3:18 PM