New York Last Week Thereabouts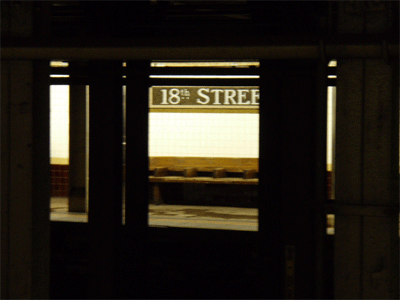 After a whirlwind short but near perfect week in New York, I noticed trouble when I awoke Sunday morning to prepare to take the E train to the airport: a sore throat. After all that human contact, I must have inoculated myself with some microbe along the way.
My immune system is under siege.
The result was a drag of a week after the return, punctuated with long hours of tech support as I rigged up to shoot and process movies of studio visits with a Sony Handicam and iMovie '08, and a ship out of paintings to Miami. More about that later to be sure.
Meanwhile, I have a pile of fotos to share with you. It's time to chop some wood....

Before I went to New York
I stopped in to Andrew Hahn's open studio as he prepared to ship work off to his gallery in Paris. In his "Siamese Origins", Andrew seems to be fusing Gustav Courbet's "Origin of the World" with David Cronenberg..

Click on the image to see Andrew's paper folding detail, paper imitates stretched canvas. All of his work was doing this.

Andrew's looks into the horrible face of death and it's got him riveted. For example, he knows so much about Forest Lawn Memorial Park here in adjacent Glendale that I've asked him to give a tour that I'll record on video. Excellent. I'm looking forward to that.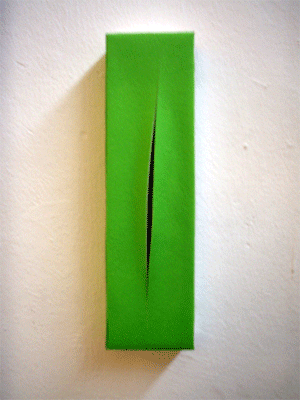 Traces of Fontana, Bu?uel, Hitchcock, the Black Dahlia, ummm Chuck Close....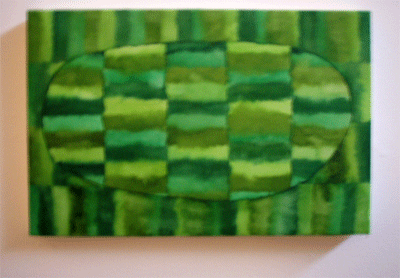 ...and Paul Klee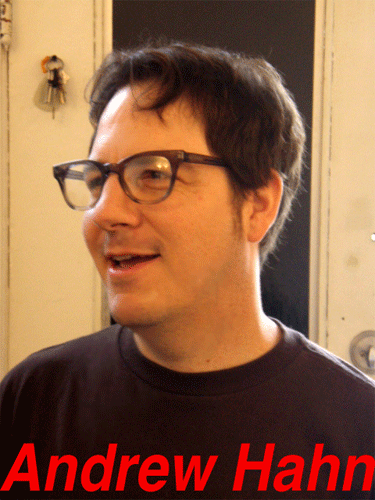 Wednesday

Late that evening, I looked my old friend Joel Mesler as he was overseeing the installation at his Rental Gallery for a new show for a gallery from Basel Switzerland: Patricia Low.
The image above: a painting from Maya Hayuk, who I met for the first time that night at Rental as she was painting site specific wall paintings for the show. More than simple chemistry, Maya is a wonderful person, motivated by curiosity and full of gratitude. I thoroughly enjoyed meeting her. A young artist who is just getting her groove on as the ground rises up to her footsteps, she lives in Williamsburg, her folks immigrated to the States from the Ukraine not too many generations ago. I happily asked her about her roots (I once knew a few Ukrainians here in Echo Park LA, our old landlords back in the day, remarkable people they were), and she was excited to tell me all about her heritage, one that led through Russian oppression to Attila the Hun and thereabouts.
It was an interesting night that lasted until 4:30 am. The bars in the Lower East Side are super cool, by the way.
Thursday
Hangover. Oh man.

Earlier in the day, Aaron and his wife Sharon (a great sculptor, by the way) stopped by the gallery with their baby Joy in tow.

Later in the evening: the opening of my old friend Aaron Parazette's show at Marlborough's new Gallery in Chelsea.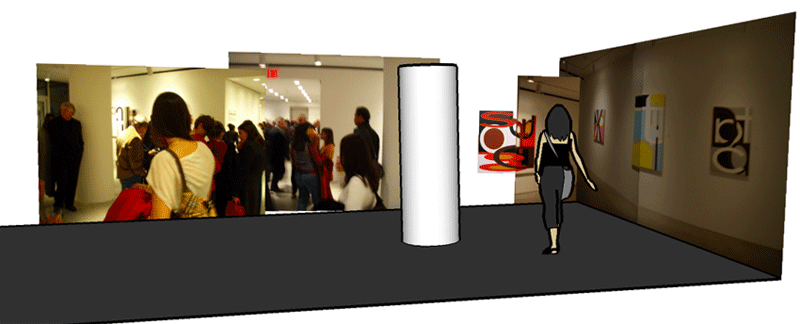 (Pardon me whilst I play with a new way to show people in places...)
Aaron has a nice mention in ArtNet Magazine by Walter Robinson, here's the link. Check it out.

If g-d is in the details, one should expect such perfection as we see here. (Interesting to connect Mies with Aaron. Mies was a methodical son of a mason, Aaron is a methodical son of an architect. I'm just sayin'.)
Friday

Richard Prince at the Guggenhiem: I liked Prince better before I saw this show.
Saturday
Studio Visit: Joanne Greenbaum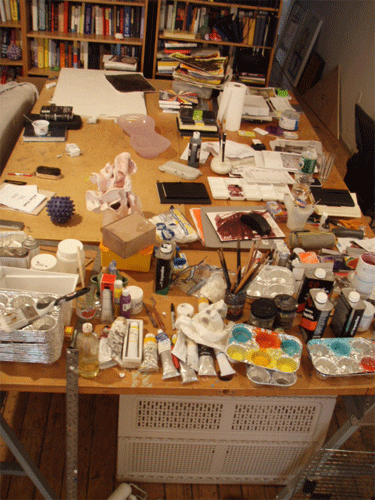 Studio Visit: Doug Henders

In this generation, the laptop equals a sketchpad and pencil.

Trade secrets revealed.
Finding g-d in Doug's details is bit difficult when the jpegs are blurry, but you can try to see what I was trying to capture here and here.

Context for the video: we were hanging out prior to our trek to Rental Gallery in the Lower East Side, beers and cheese and chocolate, mystic party music overhead while Sharon talked to a friend on the phone nearby as daughter Joy slept on the couch. I flipped on the camera and stepped out back for a minute to let the camera catch the discussion that Aaron was having with Doug about his paintings, another device to disarm paralytic self consciousness. As a slice of studio crit life, this works just fine.

Pip, aka Philip, Joel's Number One. They kicked their butts this week setting the show up. If you look close, you'll see the toothpicks in his eyes.

Robbie and I hung out a little bit too. He's a writer and his office looks onto Union Square from a perfect sniper's nest, a marvelous urban escondido in the bowels of a New York midtown city block. The building is a warren of corridors built probably before the subways were built. The hallway floors are held together with a fierce glaze of highly polished wax over a brittle ancient linoleum tile surface.

For some reason, I didn't flip the camera open during the party. These pre-party shots in the fading Manhattan light are all I have of a great night, meeting many fine and interesting people.
Posted by Dennis at November 17, 2007 8:51 AM