Ahora

Some recent history after the jump...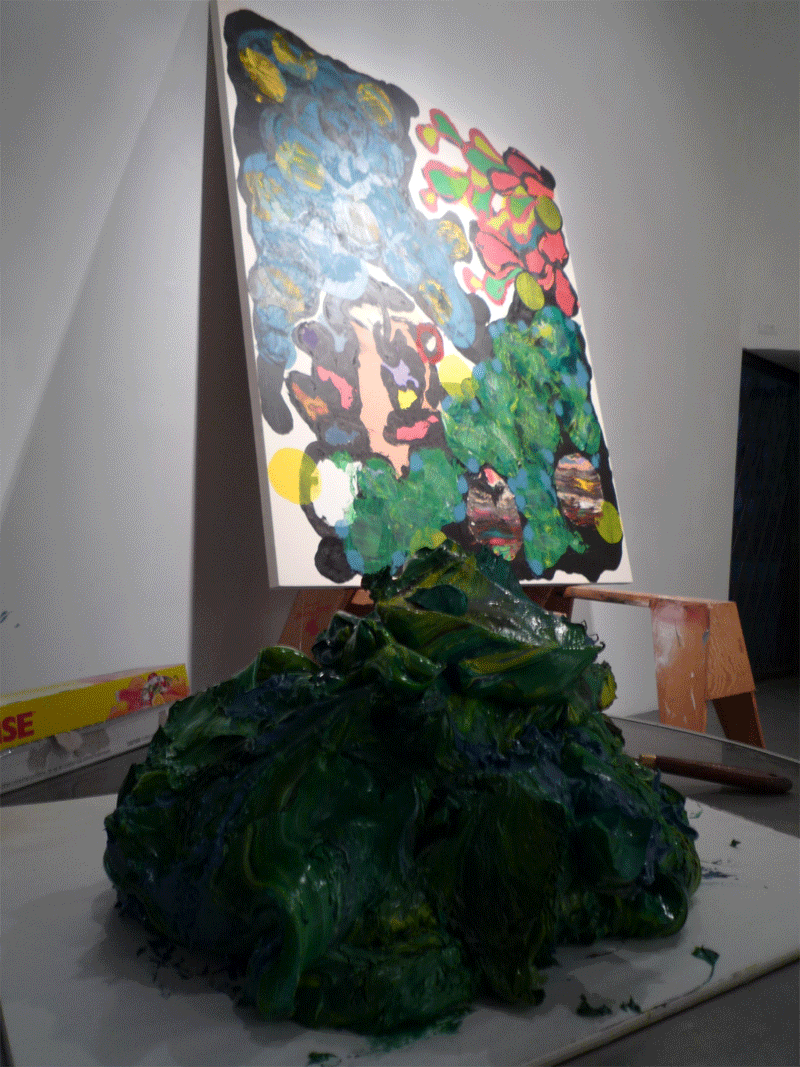 The short story: a scrape off after a week of grappling. I wanted to crack my egg but I think I broke the yoke too. Here's a peek at the monster, a Frankenstein it was, no amount of electricity could jolt the stitched chunks of flesh to life.

Two and two. Two paintings from the summer held the promise of more: The Wrecks of Nations (ww#312) and Damocles (ww#313). I was looking at two paintings by Goya: The Dog and Staurn, sometimes to one or the other I oscillated, no matter how far I amped it up, no matter how I drew on the horror of Saturn's mouth... like Dante climbing down into hell, I thought the only way out was to jump through Satan's ass, but as the clock ran out, I couldn't find the portal. Trapped in hell, I pulled the rip chord and scraped it off. The first iteration was broken into four quadrants, four paintings, all colors deployed, I realized that the scale of The Wrecks was central to the discovery of mad-scooping-as-drawing.
Fine. It was a scrape off.
So I plied the green and blue back on, spreading the reclaimed paint thinly across the surface. Most of the day was spent picking skin fragments off the surface, the result of which was to distribute the blue/green even more thinly across the exoanse. Decision trees abound in my studio, and at this point I chose away from following the Dog too closely in terms of amber, ochre. I had taken a cue of Goya's foundational colors of grey green, at least in the reproduction that I was looking at. After a long look, I noted a smear of black/umber... so I took the opportunity of uniting this color, skipped on the surface as it was, with a similar foundation color. The circus was finally tamed, and with representation handled in a gesture or two, I was able to find a feeling similar to that of The Dog of being lost, adrift, being dwarfed by montrous existence, the sting of mortality, all this made vivid -in black, green and a little ochre- the shock of current events.
Posted by Dennis at November 20, 2008 11:56 PM