Saturday Night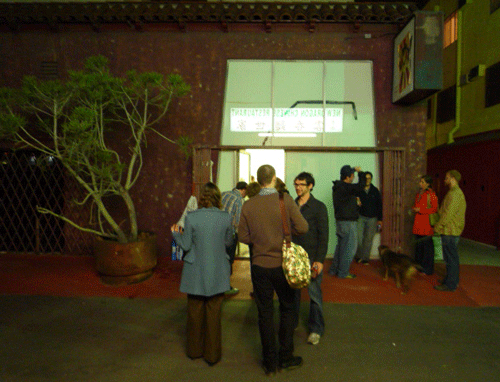 My next door neighbor, Evan Lintermans offered his studio to friends to form an installation comprised of and partly inspired by... his stuff. Like mushrooms after a rainfall. It was a one night stand, in and out like a movie shoot. I generally like the idea of special worlds found in the mundane, epiphanies tucked away in the commonplace. Horton Hears a Who. Hope, abounding beneath one's nose. Redemption? (It's time to reel the idea back in a bit.)
Years ago, I nursed an notion of inviting a group of artists to the university campus where I taught architecture design as an adjunct professor, to orchestrate a number of installations at various sites on campus. I found resonance in Evan's gig. Elonda Billera, James Boulton and Nate Page took cues from Evan's stuff, squeezing a palette of art materials from its' context like a juicer. Said materials were deployed with archangel Robert Smithson hovering aloft with little asides like Site/Non=Site with water bottles switching out the piles of dirt, half buried woodsheds and entropic flows.
Or maybe I was projecting?
I mashed a video together. (Emphasis on the word "mash".)

It was off-grid, here and gone, unofficial, a show for friends, art for art's sake in a real way. If I didn't make this blogpost about it, it would have evaporated into the thinning air of art history, whatever that is, nowadays.

Meanwhile, Pacquino kept shooting his fist between De LA Hoya's gloves, reducing his left cheek into ground meat. Brutal. Hop Louie Bar is the best fight bar in LA as far as I know. Folks packed the premises, sharp commentary and groans and whoops. By the end of the night, a hometown hero's loss blanketed the bar with a morose fog. Patrons dissipated and were soon replaced by post-opening revelers.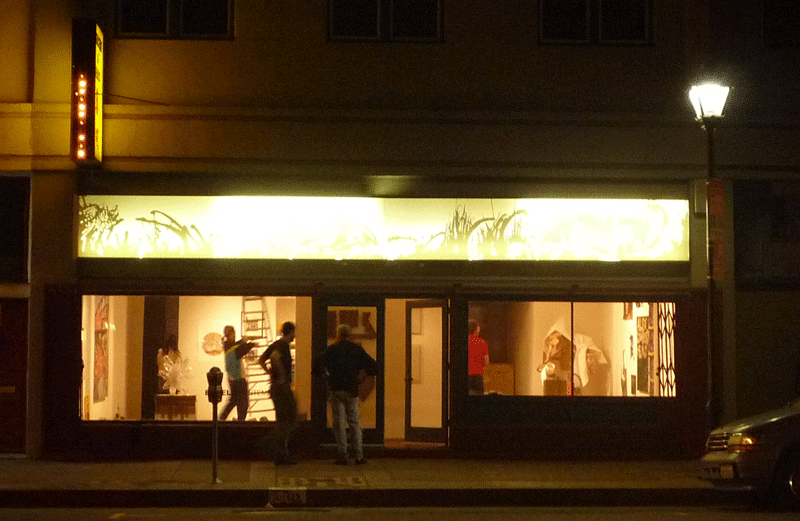 This is a shot of Bonnelli Gallery's facade the night before as Skip Arnold (to the right,black jacket, arms akimbo) coordinated the install. Globetrotter, Skip is a grey wolf performance artist, often using his body as his art material. Keeping the good times rolling, he invoked the spirit of Dean Martin in a sprawling group show that probably needed a kunsthalle for elbow room.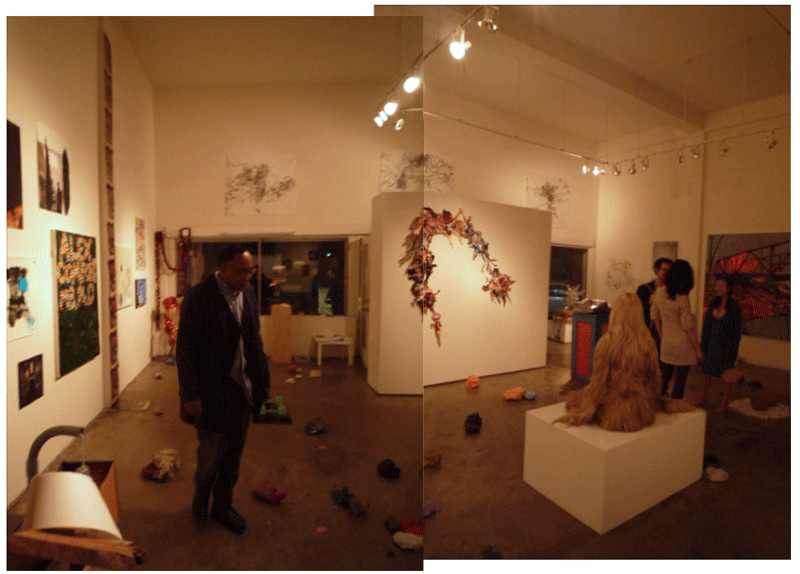 Around that time, Henry showed up. Just when you thought the party was over, it was really getting started.

The show was packed to the gils, it will take another visit to sort things out. At least Karen Lofgren got to place her "Mermaid" as as centerpiece. I called it a Chicka Yeti.

*
*
*
(...regarding the prolonged "BLOGPOST IN PROGRESS": I have been switching laptops recently, lots of wrinkles to iron out.)
Posted by Dennis at December 8, 2008 6:17 PM