On the Tablecloth of a Good Dinner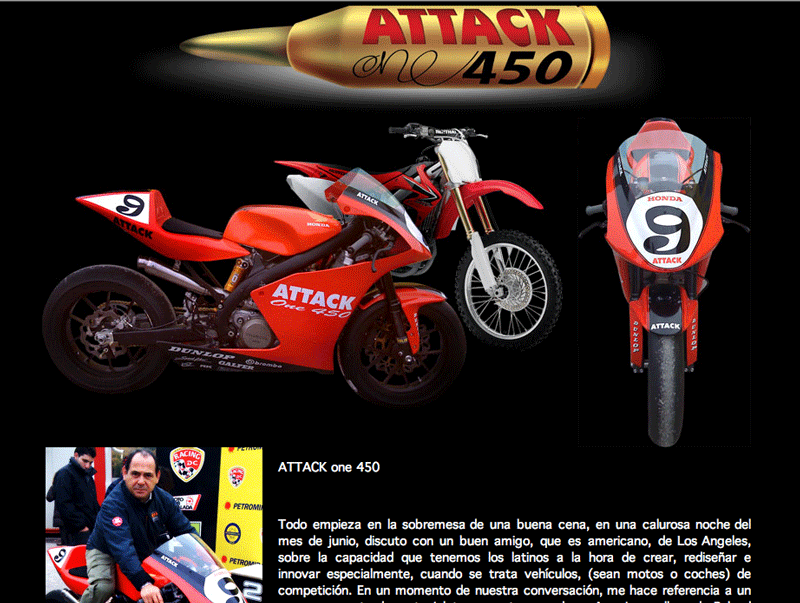 My friend Nacho has mentioned me in his website, ATTACK motorcycles:
Everything begins on the tablecloth of a good dinner. In a warm night of the month of June, I discussed one night with a good friend, he is an American from Los Angeles, my observation that we as Latins, Europeans are comparatively creative and innovative especially when it comes to vehicles of competition (motorcycles or cars).

During our conversation, I became aware of a new concept of motorcycle created by an American called Roland Sands. My curiosity was awakened and I connected to Internet and Googled Roland Sands. When I saw their motorcycles I was pleasingly surprised. I liked them, they were very American. I began to research in detail and I began to recover old memories of when my older brother began to compete, especially in his ascents in the hills and when Mr. Jaime Alguersuari along with all their equipment from the magazine Motorcycle Only created the Criterium Solo Motorcycle, with that one superb catchphrase that said ?If you want to be figure, follow me?. In my head flooded an infinity of memories and an uncontrollable necessity was simultaneously created to explain to my American friend who we are, the Spaniards. For thirty years, due to necessity we had to be able to run with maneuver and speed with our motorcycles on tracks that did not exist except that in the elite of our motociclismo.

We built on the base of a motorcycle of MotoCross (Bultaco Pursang, Wild Capra, Ossa Phantom, etc.) an authentic motorcycle of the circuit, to be able to run in tracks like Calafat and Jarama, both unique circuits that we had at that time. The emotions are so many that are running over me, with whom I dare to promise to him, my American friend, that we in ATTACK are able to assemble with materials of first quality, good criterion and estimated content, a resultant product that you are seeing here, the ?ATTACK one 450?.

I must appreciate the collaboration, without which this project had not been possible: Eduardo Blanch of the Team merson, Juan Puigvi de Industrias Galfer, Jordi Fig tree of suspensions HRG Ohllins, Carlos Waiter of Speed to fiber, Old David of Brembo and to my boys of ATTACK Chuss, Raul, Josete and Dani that have all made good work with speed in the assembly of this motorcycle. By all means I want to also thank my American friend who has awakened my curiosity to see as others see the motorcycle beyond our borders.

Thanks Dennis Hollingsworth.
There was a conversation we had, lost in the archives of the blog, where Nacho was rhapsodizing about the difference between the Yanqui and Euro style of motorcycle riding. According to him (and I remember drawing out his idea), European tracks are wiggly and American tracks are linear. Continental riders are accustomed to speed and maneuver and we Yanks across the pond rely solely on power.
I wonder if the rule is the same in the realm of lovemaking?
Thanks for the tribute, Nacho!
Posted by Dennis at January 6, 2009 5:39 PM