EU Travel Notes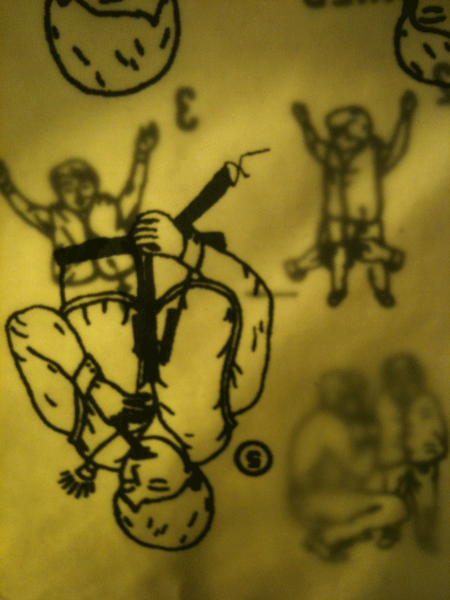 I've scribbled out a few notes about my recent travels.
It's going to be a hive of mistakes, but then blogging is an archive of first drafts by its nature, isn't it?
Haarlem/ Amsterdam: I began and ended my travels in the EU out of Schiphol airport. The Netherlands is an absolute delight. Dinner with my gallerist Tanya Rumpff, visits with collectors and forays into Amsterdam dominated my short time there. One collector has a house designed by an architect of the De Stijl generation in the countryside. It was in perfect condition with steel framing exposed at the roof's eaves, the vertical and horizontal lines were countered by two or three curvilicious forms around staircases and fireplaces. The house actually had a provision for skeet shooting from a second level balcony. I wish now that I had asked for a demonstration. The owners also talked of the Nazi occupation, of how the house was used as a command post and of a nearby troglodyte community of around a hundred Jews who burrowed underground to escape the death camps. Heavy stuff.
I arrived in the Netherlands at the beginning of the week and my time was short there, so I wasn't able to see many galleries during my visit. But I was able to get into the Rijksmuseum and the Van Gogh Museum to see the collections. Small paintings such as Rembrandt's Jeremiah Lamenting the Destruction of Jerusalem was mesmerizing. Drawings and washes and glazes and then fatter and fatter licks into the highlights and details. Frans Hals always a lick master too, but without the big washy buildup and there were several on hand at the Rijksmuseum. The Rijksmuseum is a Dutch national museum and as such, it offers a nice capsule history of Holland. I've always been fascinated with the deep and natural connection the Dutch have with Spain, one that I tend to see in painting between the two societies, and the museum offered a bit of insight into the 16th century Spanish colonial period. The early work of Van Gogh and the artists who influenced him made a huge impression on me. Check out the Van Gogh Museum's site for investigations into Vincent's studio practice to get a flavor of what the museum has to offer.
It's easy for me to get lost in and around Haarlem's river Spaarne, and wandering within both Haarlem and Amsterdam is wonderful. The scale of building and ornamentation wound in between the narrow streets and canals is so delightfully human. Summers in Amsterdam is a hoot since the streets are filled with festivals and concerts, but winter does not lack tourists and the bars, the restaurants and cafes are still packed with people. Ambling the streets of Amsterdam, especially after visiting the coffee shops *ahem* is like being blissfully abandoned in the urban models of my youth in architecture school.
Barcelona/ Tossa/ Madrid: Barcelona airport -El Prat- had built an expansion of their airport and it was interesting to see the recent work of Ricardo Bofill, an architect I had admired in architecture school. It was interesting to see the design of his South Terminal, the sensuously modern forms and lines so different from his early Post Modern work such as Walden 7.
Of course it was wonderful to visit with my friends in Tossa and Barcelona. We are watching their children maturing, relationships shifting, people growing. So generous are our Catalan friends. For example, Carmen gave my wife and I a gift of "cabinet" curtains for our new kitchen and our friend Kiko offered to install them for us.
That week was the festival of Carnival in Spain, and most people were costumed during the time I was there, a parade shambled through the cold winter streets of Tossa after a dinner of paella cooked at Kiko's house with friends all around. During the whole trip, and at each stop, friends would toss back the drinks to celebrate together. My travels were punctuated at regular intervals with many alcoholic beverages, sometimes too much and backstopped with recovery from hangovers, which happened for me this time to be milder than I would have expected. There is something about a high tempo travel schedule that perhaps fortifies one's constitution for such regular intoxication. Tossa and Barcelona initiated this European rondo from bar to bar and one favorite vignette of mine was when we were at Tossa's Bar San Antoni, a young Catalan fisherman friend (a bearded fellow with hair like Jesus who is an avid lover of all women on earth and dances like that too) whooped it up, spinning on a wooden column in the bar singing at the top of his lungs, legs and arm flung in a salute to life. Gimlet eyes and smirks all around.
Knocking on my neighbor's door, Carmen at 85 years has some experience behind her. She delightfully pulled out a bottle of whiskey, Carmen always has a bottle ready and she is quite eager to keep my glass full. "?Un pocito, por favor!", my fore finger and thumb a half an inch apart. I am not really a drinker, I'm a teetotaler actually... but the spirits are a social lubricant and I quite like society in general. We share the news and in time, I mention my recent "read" (an audiobook, actually) of Guernica, Russell Martin's "Picasso's War: The Destruction of Guernica and the Masterpiece That Changed the World", where the author takes the reader not only through the painting of that canvas but also of the historical context. It's less than great literature but informative none the less. I wanted to verify some of the things I learned in the book. Did Franco not really know of the bombing? What it an attempt at plausible deniability? Did he willfully subvert Hitler during their fateful meeting by bargaining too hard with him? Or was he a fool and a brute who had his nuts cut off from the big fascist fiesta elsewhere in Europe at the time? Of course, she couldn't answer, but these were questions I pressed from time to time in Spain on this trip. Carmen breathlessly told me of when her father had to hide her in a cellar of coal for a week, for fear of her capture and molestation by fascist forces. She was seventeen at the time (if I recall correctly). She must have been quite a tempting prize during the lawlessly bestial hinge points of war. She described how Franco's forces came into Tossa at the conclusion of the war, of how the youth of Tossa was forced to march in formation, military drills, of how after mornings on the grinder they were forced to pray in unison, the Catholic regime. She told me of the concentration camps located outside of Tossa, and I wondered how many of the older folks in Tossa were incarcerated in them, and who among those of Tossa were the enforcers. I remembered the tale of the troglodyte Jews outside of Amsterdam. There were so many Ann Franks at that time.
On my way out of Tossa, I stayed overnight at Nacho and Leslie's apartment in Barcelona. The Gamba Bar! Jamon Iberico, pulpo and bacon and cheese sandwiches... why can't we have this in Los Angeles???
A silly question. I actually like the difference.
Madrid is getting ever more familiar for me, which is a delight since I was born there and left when I was three years old. Growing up with this identification with Spain had driven me to try to live this life both in the EU and the USA. My hotel on this visit was near the Puerta del Sol, within striking distance of the Prado, Thyssen-Bornemisza Museum, and the Reina Sof?a. Calle de la Montera had a bar around the corner of the hotel where a gauntlet of ladies of the night trolled for eye contact along the way. "No thank you, I'm married", I would say with a smile. "I'm married too!" sang the usual response.
The ARCO art fair was a three train jump red to grey to pink with names of the junctions that punctuated the stops: Cuatro Caminos, Nuevos Ministeros and Campo de las Naciones. Eleven galleries from Los Angeles were hosted there and it was nice to see some of my friends encamped there for the week. I didn't jump into their party circuit since it was highly scripted with receptions and functions in embassies and exhibitions around the city. Instead, I tried to see Madrid for myself, taking slow tours of my favorite museums (mentioned above). I found items of interest along the way, such as tracking down Caja Madrid's Flamenco Festival at the Teatro Circo Price where I found myself savoring the performances of Toni le Pelao and Diego el Cigala. Another day I tracked down an exhibition in the Archeological Museum at Alcal? de Henares, a small town ten train stops north of Madrid. A revelation of color and pattern of ancient Greek sculpture and architecture. The modalities of art: painting and sculpture were once truly one with architecture back then. Dinners with my gallery from Barcelona were delightful and formidable since my gallerist Miguel Marcos will not deign to speak anything except Castellano with me. His speech is peppered with wit and puns and such wordpl that not even his wife and assistants could interpret, so dense was his repartee.
Both of my galleries, Miguel Marcos from Barcelona and Mark M?ller from Z?rich were successful in some measure in selling my paintings but overall, commerce at this year's art fair were not as strong as in years past. This is not surprising considering our worldwide economic turmoil, but it is surprising to have such a consolation -modest as it is- given this economic downturn. The Eu in general has been swamped with the effort to control the expansion of the public sector and to stimulate the growth of the private sector. News of Greece, Italy, Portugal and Spain laced television and newspapers and Spain in particular is hung on the horns of it's promises to find a balance... but such assurances to Berlin, Brussels and Paris are skewered on the fact that only a quarter of the Spanish economy is under the direction of Madrid since the remainder of fiscal authority is divided amongst the several autonomous and usually recalcitrant socialist regions. Spain's economic fortunes resemble the USA's since there was a huge overbuilding of housing stock and the relaxation of mortgage requirements were papered over with "highly complex financial instruments" -aka derivatives- that were meant to distribute the problem into the economy at large. Like the US, there is scant evidence of a repair of the breach. Together with the struggle to control and reign in the fattened public sector and the need to grow the economy by fostering private industry at all scales, this year will be the test of this challenge. I hope for the sake of my friends in Spain, in the EU and for ourselves here in the States that we are able to square this circle. This is going to be a tough, tough year for everyone and artists in particular.
As for the Los Angeles feature at the fair, each individual gallery reported good news and no one expected great news; a pleasant but mild surprise. I don't know about the popular image of the City of Angels that was projected in Madrid, but the few reports that I encountered were tepid. We did alright, but only alright when it would have behooved us to to coordinate our efforts to try to blow some minds away. Perhaps we are too individualistic here in the States to combine our efforts in such a way, perhaps those who picked and arranged the roster of Angelenos did not convene the gaggle to focus our energy into a strong enough point to penetrate the media mist that is the ARCO fair. Perhaps it was best not to have been tempted to deliver up convenient clich?s of LA: surfing, fun and sun, Hollywood, that legendary light and forever blue sky (the Light and Space movement has faded into our collective rear view mirror, thank G-d... but even so...).
So it goes, so it went.
Berlin I usually compare Berlin to Los Angeles. Young artists need a context that is cheap enough in terms of the cost of living to carve out the head space to invent their work. Los Angeles and Berlin have been a magnet for artists coming out of school just for this reason, the only difference is that the cost of living (read: studio space) in LA has risen a great deal over the years. At the moment and for the foreseeable future, Berlin wins at this game hands down. There is a CRAZY amount of available space in Berlin, habitable and otherwise. And it is insanely inexpensive to eat there. I can't fathom how the restaurants do it. A typical menu has appetizers at 2-3 euros, main courses at 5-6. Street food is abundant, healthy and even cheaper, por supuesto. The main problem with the street food is that you can get too fat on it if you don't watch out. Not a bad problem. Cuisine from all over the world is abundant. Living space expenses are at rock bottom, around 400 euros per month as far as I could measure. People bike everywhere, the public transport can cost 60-70 euros for a monthly pass, most young irascibles I know there don't even buy a ticket, evading the conductors and freelance authorities along the way. Most young europeans who have access to the various entitlements can get a variety of government funding to ease their cost of living. As a result, there is a huge population of young creative types who are content to to make their art and show it to the local community, which are people like themselves... and not especially like the populations of New York or London whose community includes a heaping dose of those who belong to the class that can collect art. If you want to make art and show it to the likeminded, LA and Berlin is the place to be. Think of it like plant propagation, small containers of super fertile and wet soil are the best way to start up a sprout until it gets strong enough to transplant it into "normal" terrain.
The population of Berlin was diverse. There was a substantial population of Turks, who to my eye remained more Turkish than German for more than one or two or perhaps three generations. Russians, Eastern Europeans, Western Europeans too -but I couldn't map them all out too well. South Americans had a presence from what I've heard. I wasn't there long enough to tell the difference between Eastern and Western Germans.
I was able to visit longtime friend from New York, Joanne Greenbaum, who has taken a sabbatical from Manhattan for six months to live and work in Berlin. Her studio was up and running, paintings started well along the way and paper work starting to pile up as she typically does in her NYC studio. She had targeted her art suppliers, found a gym nearby and she was able to borrow a bicycle to get around the city. Berlin seems to be a great place for an established artist to take a break from one's usual environment and make art with a fresh local audience.
My young artist friend in Berlin friend Alberto hails from Tossa and I had the temerity to advise him to ditch his art school in Barcelona when I had realized that it wasn't up to snuff. I said "head off to Berlin, young man" and there he went... and there are times when I tend to worry if I was rash and I hope that I gave him the best advice. This is part of the reason I went there for a visit. The other reason was to drop into my gallery near Checkpoint Charlie, Andr? Buchmann and say hello. I was included in a show there called Palm Paintings, which included Jim Butler, Sean Dawson, Tomory Dodge, Lutz Guggisberg, Fiona Rae, Juan Usl?, David Reed and Clare Woods (a terrible -in terms of video quality- revolving pass can be only glimpsed in my video tour).
Again, the timing of my visit was like it was in the Netherlands -in the earlier part of the week- and there wasn't much going on to see in the various exhibitions. But I was there primarily to sample the life and along the way I was able to see a thing or two. From the few galleries we dropped into, I saw much work from artists from other countries, very international it was. Artist collectives such as "Artist Anonymous" presented "quelle heure est il au paradis?" at Galerie Caprice Horn can serve here as a sample. A career survey of the 85 year old Italian artist Gianfranco Baruchello was presented at Galerie Michael Janssen, another. Czech artist Veronika Holcova was showing metaphysical landscapes at Jiri Svestka Gallery, another. As for museums, I only had time to visit the Hamburger Bahnhof Museum of Art situated in a magnificently restored 19th century train station. Dieter Roth, Smithson, Nauman, Artschwager, Broodthaers, Judd, McCarthy, Kiefer, Bueys are only a few in the star studded firmament. There was a special presentation of outsider artist Walton Ford from Larchmount New York, entitled Bestarium. One piece from the show sticks in my mind, Chingado, 1998, depicting a particularly amorous bull affixing himself to a a leopard that is either enraged or enamored. Or both.
Berlin was about two weeks or so away from spring, the snow everywhere was ground up and piled between the street and sidewalks. It was grey and filthy and mixed with much trash and dog feces, whose winter's collection was preserved to be eventually collectively thawed out for awkward public appreciation, this just before trees and bushes everywhere will begin to bud and sprout green-ness, all within a week's time. And two beats later, the public at large will begin to crowd out into the parks and plazas, shedding their clothes at a rate and degree that might alarm someone from north America, bar-b-quing and playing music and games. This was described to me by my friends and it's something I only saw in places like Cologne and I can by this example only imagine after I left. It would be wonderful to hang out in Berlin in the spring.
Copenhagen I met Javier Tapia here in Los Angeles last spring as he was working with the formidable Mary Kelly at UCLA. Originally from Chile, he met his wife in Barcelona. She is a Danish curator-turned humanitarian aid worker and they moved together to Copenhagen when Javier won entry into the Royal Danish Academy of Fine Arts. A six year program, artists in this institution get the royal treatment, no pun intended. The are issued something that looks like a passport that grants them freebees in the country, they get a medal, they get to meet the royal family, they get a studio, a secretary, funds for projects, they specify their arenas of investigation and the Academy will find the best artists and curators anywhere in the world affiliated with this concern and they will bring them into the institution to advise each and every one of them.
I shall pause here for the artists among my beloved readership to catch their breath.
It's a one hour plane flight from Berlin to Copenhagen. From the airport, I took the train ten stops down the M2 track to Javier's apartment and for the next two and a half days, Javier took some time off his busy schedule to show me the sights. I think that was the last week of snow of the winter and I felt fortunate to witness fat snowflakes carpeting the city that night as I arrived. Javier hustled me off to the local bars to get a feel of the people and nightlife. The folks that I saw in that brief visit in Copenhagen were mostly young, energetic, on the ball, interesting. I would estimate that about a third of the population biked around town.
The social system that the government provides for the people is extensive, generous, nurturing. As an example, Javier told me that recently graduated young architects will be paid if they cannot find a commission out of the chute. They will be paid monthly by their union (which seemed quasi-governmental to me, but what do I know?). This benefit lasts for up to three years if they cannot win a client to design a project with. After that, they will assign projects to them if their fortunes have yet to yield results. People are given benefits for every child they have. I imagine school is either free or close to that, I had the impression that there is a universe of government assistance that exceeds this description. I cannot yet confirm this but this is the sense of what I came away with. I probed Javier for the quality of government bureaucracy, I was wondering how they compared to our system here in the USA where mismanagement and waste abound. He couldn't answer my queries directly but neither could he come up with an instance of scandal and taxpayer abuse. The buildings were usually brick stacked precisely and without pretense.
There was much use of wood architecturally, usually within the interior as I would have expected in Northern Europe. The built environment was well made, the society was well made, the people were well made. There were immigrants from the Middle East and other related places, and they seemed well knit into the society and at the same time, they were able to hold on to their identities within it. I saw many posters urging ethnic integration, but I saw nothing to indicate that this was problematic. Perhaps I was there for too short a time, as there must have been a reason for such public exhortations. I heard a lot of American accents in the streets, and Javier reminded me of the diaspora of Vietnam vets that settled in years ago and of the Yanks who have moved over since then.
Javier took me to visit his studio at the Royal Academy. Several floors of studio spaces were secured by guards and accessed by key punch locks. The warren of working spaces looked like any art school, the good ones. I was dazzled by the breadth of Javier's investigations, by his willful spread into multiple simultaneous media. He had been painting, to be sure, works of facture delivered with a fond disregard. I could identify with the wellsprings of his inspiration in painting: there is a moment when you realize that the best mark is not the one on the canvas but instead left behind on the tool or palette. The trick was to get that particular mark -or anti mark- onto the surface of presentation. What is different between his painting practice and mine was that I tended to domesticate the wild mark, or to find a negotiated position between each, to try to counter-balance both ("through contrast, one becomes conscious")... Javier, by contradistinction, wanted only wildness on his canvases. An interesting proposition!
But painting demanded too much time for him recently and it knifed into his installations and conceptual adventures. He was putting it on the back burner to pay attention to the rest of the worlds of genre. I could see a tincture of architecture in his work, and he divulged to me a brief contact with architectural school when he was younger. The influence was clear and familiar to me. He showed me his drawings, wonderful. I wanted to do that kind of thing too. I saw the beginnings of an installation that will become his curtain call for his experience at the Royal Academy. Large scale chicken wire forms and newspapers impregnated with plaster, it took up his entire studio. It was stacked to the side to be reassembled later onsite. He is conceptually tunneling into the subject of caves, and he will be fabricating a staged cavern for his show. His ideas were young and tender and we handled them carefully together. The show will be set for the spring and the calendar is thunder for him at the moment.
I was thankful that he took the time to show me Copenhagen.
Javier took me to Freetown Christiania, a legacy military base that was abandoned years ago. I blockquote for the sake of convenience, from the first two paragraphs of Wikipedia:

Christiania, also known as Freetown Christiania (Danish: Fristaden Christiania) is a self-proclaimed autonomous neighbourhood of about 850 residents, covering 34 hectares (85 acres) in the borough of Christianshavn in the Danish capital Copenhagen. From an official point of view, Christiania is regarded as a large commune, but its relation to the authorities has a unique status in being regulated by a special law, the Christiania Law of 1989 which transfers parts of the supervision of the area from the municipality of Copenhagen to the state. Christiania has been a source of controversy since its creation in a squatted military area in 1971. Its cannabis trade was tolerated by authorities until 2004. Since then, measures for normalising the legal status of the community have led to conflicts, and negotiations are ongoing.
I was curious that in such a well ordered society, what exactly was lacking that people wanted enough to hazard a reordering of it? After seeing the hand made houses, shops, skateboard parks, cafe's, farmer's market... the legacy of the squatter's movement of the early 70's, I began to understand that in Europe (as well as in the USA, but I believe this exists or existed in a much smaller scale) there is a spontaneous anarchist impulse, a fundamental human desire to reform society, perhaps no matter what the context, into a newly minted form, perhaps another notch or more closely towards utopia. Complete freedom... or something resembling it.
And yet, a revolution lasts for but a moment after all, and another order will spontaneously reemerge. I learned this much about the rules that configure Chritiania: the original squatters had to form a committee to regulate subsequent squatting, that the complete freedom to introduce intoxicants into one's own body was imperiled by the use of hard drugs such that those who championed the softer substances had to prohibit the ones who wanted to use the harder ones. I don't know the complete list of strictures that orders this society, but it is illuminating that pure anarchy does not, and perhaps cannot exist. If it does, it can last but for a flicker of a moment. Burning man eventually burns out.
Later, we visited some galleries and another studio space that Javier has elsewhere in Copenhagen, in the Carlsberg Brewery Complex. The famous beer company has grown out of their original site and now artists are invited to set up studios and exhibition spaces within the abandoned factory. This development is pretty recent, only months old. Our minds reeled at the possibilities. We took the train north to the Louisiana Museum of Art. A low slung horizontal spanning architecture, low wood ceilings and floors framing views to the sea, a scene that looked like a moving Vija Celmins, the main exhibit was based on an anodyne concept: Color in Art. It was saved by a larger number of fine works, all historical and solid exemplars of painting. The exciting aspect of such an exhibition for a visitor like me was to be able to see those odd and unfamiliar works by artists I grew up admiring. Buried deep in the heart of the show was a video installation by Pipilotti Rist, Homo Sapiens Sapiens, first showed at the Venice Biennial in 2005. A circular staircase drops you into a black felt (or somesuch) room, you are required to doff your shoes and don surgical booties at the entrance. As your eyes adjust and ears fill with the soundtrack (I want a copy of it), the floor is filled with mattresses and tube pillows connecting them all. People are already on their backs and four projectors fill the ceiling from the corners of the room. The animated overhead mural is visually seamless as two redheaded nymphs cavort in an Eden, the era before the fall. Here is a link to someone's YouTube video, to sample a fragment of the experience. It was the highlight of the visit.
I was able to meet and see the work of some of the artists. One painter had largish canvases using the representation of oppression, piracy and... zombies. I probed for connections. A scene from the George Romero's Night of the Living Dead was airbrushed and placards and posters were added to the hands of the undead. "Was this a critique of protest?" No. "Does your investigation into piracy probe into the frontiers of civilization?" He didn't understand my question. I was told that he was a political artist. "What political order do you want to bring to life?" That didn't get far. Then I was told of a protest that erupted recently where eventually fires were set in the street and this artist was arrested by the police and had endured some jail time as a result. The purpose of the protest? A youth center was to be shut down by the local government and razed to the ground. In the process of the protest, it was burned down along the way. I didn't understand if this was the result of the protesters or the police.
A moment later, we talked of the exhibition of Katherina Grosse, of her recent exhibition in an institution nearby Copenhagen but I didn't get a chance to see it for lack of time. The artists that I met admired her work but they seemed a bit put off by her show. Why?, I asked. Well, the show had a feel of a salon show. What's wrong with that? A shrug. She showed earlier work mixed in with recent work, came another try at an explanation. Further probes were fruitless. At last, one artist said: "In her last exhibition, she was so great when she sprayed her paint past the museum walls and onto the cabinets and desks of the administration!" Ah so. She didn't break a subsequent transgressive act this time. Maybe she wanted to recover a more traditional exhibition and fold it into her previous work?, I offered. A shrug. A backwards movement away from transgression is a no-go, it seemed.
This much I began to understand: perhaps all art in this part or Europe is evaluated for its social utility, for its capacity for institutional critique. There was particular excitement about the news that in the upcoming Documenta, Carolyn Christov-Bakargiev will utilize the organizing concept of revolution in the creation of the exhibition in Kassel, Germany. The artists that I met there are all seemed to be uniformly focused on politically transgressive, socially oriented practice... (Javier belongs to this world to be sure, but I see in him through glints of his critique, that he is not completely subsumed by it as an artist) and this was a revelation to me, that the art world that we know of in the US is alien to this community in a way. Art that didn't perform this specific function was worse than bad... they seemed to be... indifferent to it.
For an example of the world outside of social utility, check out what Roberta Smith wrote recently in the New York Times, Post-minimal to the Max, a world which seems completely separate from that sphere of thought:
But regardless of what you think about these artists individually, their shows share a visual austerity and coolness of temperature that are dispiritingly one-note. After encountering so many bare walls and open spaces, after examining so many amalgams of photography, altered objects, seductive materials and Conceptual puzzles awaiting deciphering, I started to feel as if it were all part of a big-box chain featuring only one brand.

The goal in organizing museum exhibitions, as in collecting, running a gallery and ? to cite the most obvious example ? being an artist, should be individuation and difference, finding a voice of your own. Instead we?re getting example after example of squeaky-clean, well-made, intellectually decorous takes on that unruly early ?70s mix of Conceptual, Process, Performance, installation and language-based art that is most associated with the label Post-Minimalism. Either that or we?re getting exhibitions of the movement?s most revered founding fathers: since 2005, for example, the Whitney has mounted exhibitions of Robert Smithson, Lawrence Weiner, Gordon Matta-Clark and Dan Graham. I liked these shows, but that?s not the point. We cannot live by the de-materialization ? or the slick re-materialization ? of the art object alone.

After 40 years in which we?ve come to understand that dominant styles like Abstract Expressionism, Minimalism and Pop are at best gross simplifications of their periods, it often feels as though an agreed-upon master narrative is back in place.

What?s missing is art that seems made by one person out of intense personal necessity, often by hand. A lot but not all of this kind of work is painting, which seems to be becoming the art medium that dare not speak its name where museums are concerned....

...But a combination of forces threatens to herd all of our major art institutions into the same aesthetic pen. The need to raise and make money sends curators hunting for artists with international star power who work big at least some of the time, deploy multiple entertaining mediums and make for good ad campaigns (like the self-portrait featured in the MoMA ads for its coming exhibition of William Kentridge). The small show devoted to an artist who doesn?t have an immense reputation and worldwide market becomes rarer and rarer.

The consistent exposure to the big-statement solo exhibition becomes self-perpetuating, as these shows condition not only curators but the public to expect more of the same. I realize to my horror, for example, that the idea of seeing a survey of contemporary painting at the Modern makes me squirm. It would look ? I don?t know ? too messy and emotional, too flat, too un-MoMA.
(Emphasis mine.)
Rereading that article when I got back was a tonic for the feeling that anything outside of socially organized revolution was irrelevant to art history. I have this ditty where I like to say that there is not an art world -singular- there are many art worlds. I used this construction to indicate the many levels of art, usually to folks who don't know the one I live in. It is not necessarily hierarchical but horizontal too, that there are other art worlds than the capital "A" art world that I think, I hope I belong to. But now I think that we live in many bubbles of art worlds of the highest rank (qualified perhaps of the art publication of your choice, Art Forum, Frieze, etc.), that there is a bubble in North America, a bubble in Northern Europe, a bubble in Central, Western and Southern Europe, a bubble in South America, a bubble in Japan, in China. And from Roberta Smith's article, our bubble has bubbles in it too. The art world is a foam of bubbles. I don't have a map for it all, but the separable nature of it exists. And still I cling to the desire to merge them all, or to temper one against the other, or just feel my way around them... I don't know exactly why or how right now.
It was interesting and important for me to see their world nevertheless, and worthwhile to strengthen this solitary studio practice of mine and in my community with a coming to grips with that "other", with neighboring communities. As for the politically transgressive, I tend to think that revolution in art is a model that is best internalized in one's practice (a self-overcoming) and the literalization of it in society at large was last effective during the time of the Situationists but with diminishing results ever since.
Posted by Dennis at March 4, 2010 6:33 PM