Ambient Influences
I post info about the shows of my friends in the art world not to promote them (although I am happy for whatever promotional power this blog might have, the degree of which is still a complete mystery to me) but to report significant influences my community has on me as an artist. When I'm talking with my pals, I enjoy their enthusiasm and being thus moved, I feel compelled to include a note of it in this online studio diary.
Here are three recent examples: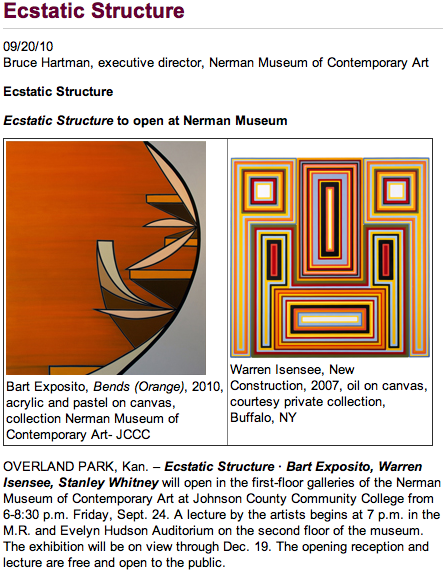 Bart Exposito has just returned from a trip to Kansas City for a group show for the Nerman Museum at the Johnson County Community College, curated by Bruce Hartman. His report: the museum is amazing, a great collection distributed throughout the campus and thus well exposed to the public. Bruce Hartman is sharp and a good natured soul, his curatorial history is top shelf. The artists he showed with, Warren Isensee, Stanley Whitney, are equally impressive... Bart described one as resembling Sun Ra with his attire, both are mid career artists who are finally getting the recognition they richly deserve. Kansas City is beautiful, an echo of Chicago, and populated by an enthusiastic community of collectors who are by no means wall flowers in the art world.

Adam Braly Janes threw in with Eric Pereira at Roger Dickes' Glendale Community College Gallery. Jerry/Jury Rigged. This space has a great history and shows like this extend this reputation strongly into the future. Adam told stories of the different artists installations: Skip Arnold dumping a four foot high pile of dirt into the tiny space, Joe Deutch is an interesting character, Amanda Ross-Ho is someone to watch...
I was doubled up in a fetal position over the weekend due to some kind of respiratory infection (head cold), the first in a long time, and I wished I could have made it to the opening.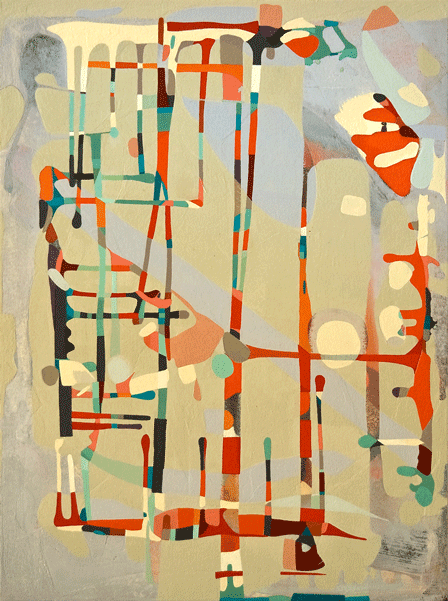 Brad Eberhard has a show of recent paintings at the Thomas Soloman Gallery, specifically Tom's second space at Cottage Home, a former theater around the block at Cottage Home Street. Brad's painting practice is evolving, opening up, looser and larger. A super interesting guy, a polymath with an independent mind, he's like Bart and I: singularly focused on painting and diving deep.
(Yes, I'm flattering myself.)
Tom has another show up that deserves mention. Krysten Cunningham and I don't have an active or natural conversation together, but I watch what she does with interest. Her show is up simultaneous with Brad's, at Tom's primary space on Bernard Street. Titled "3 to 4", it must be the architect in me that keeps my eye on what she is doing.
Posted by Dennis at September 28, 2010 11:25 AM