For Sale: Kiko's Duplex in Tossa de Mar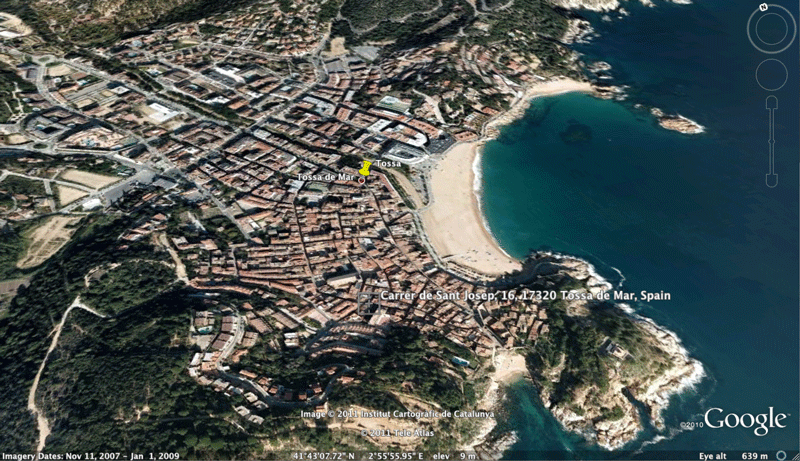 Faithful readers of this blog will no doubt remember my friend Kiko, Fransisco Noguera. Kiko is an old friend of mine who lives and works in the small former fishing village of Tossa de Mar in the Costa Brava of Spain. He wrote to me recently about his plans to build a small residential project in the heart of Tossa:
Un amigo arquitecto me ha hecho ?stos planos, para ver si alguien quiere comprar el piso d?plex por 195000 euros todo terminado y listo para entrar a vivir. Te envio una copia del proyecto para ver si hay alg?n americano interesado en el piso ? en la casa vieja.
He reports that a friend, who is an architect, drew up plans with him for a duplex residential project (two units priced at 195,000 euros each, turnkey) and they wanted me to see if there might be any buyers for such a property in my world (which is bigger than the sum of Americanos alone in this blog, I assume). He also is open to selling the old existing property as is, the price being 177.000 euros, as I recall.
So I begin this blogpost with the most attractive feature of this property, the village of Tossa de Mar.
Tossa is located seventy five minutes north of Barcelona, an hour from the French border, close the inland city of Girona and Dali country with Figueres and Cadaquez nearby, all in the heart of the Catalan Costa Brava, where the Pyrenees meets the Mediterranean Sea. My argument for living here, aside from the wonderful appeal of Catalan culture, is the proximity to the heart of Europe. Either nearby Girona or Barcelona have train and air flight connections to all over the EU and beyond, Aix en Provence is only three or four hour's drive away, Paris is an overnight sleeper train's distance from here.
Flipping the map upside down to frame this image, you can see the location of the property (Carrer de Sant Josep No. 16, carrer=street in english) in relation to the big beach, to my favorite cove, Codolar, and Cap Tossa with its functioning lighthouse crowning the crest. St. Joseph street is punctuated with bars, restaurants and cafes, the latter being my favorite, Bar Josep. You can see the fortifications of the old city, built circa 900 A.D. The big beach is a minute walk away, the cove a winding journey through pedestrian only streets. The church is around the corner, so is my house on Sant Telm.
Here is the existing property, before they begin their renovation. More images here.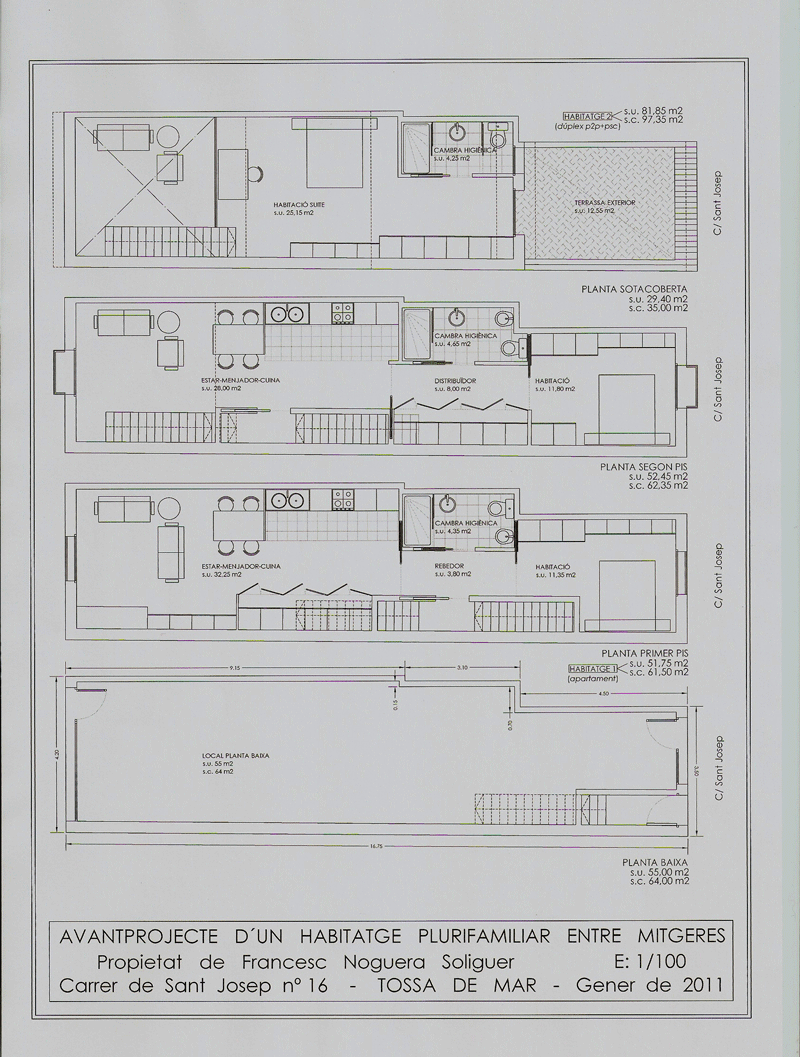 Here are the plans for the duplex. You might be able to read the plans, bottom floor appears to be commercial, a side stair takes tenants up to the duplexes above. The top floor has two bedrooms, with a terrace on the top floor. I would guess that the pricing would have to reflect this fact... so any of you who might be interested, this would be a first item to clarify as you proceed into this offering.
For more information, please feel free to either email me at dennis@dennishollingsworth.us or contact Kiko at kikonoguera@hotmail.com or call him directly: (+34) 646 604 352.
Posted by Dennis at February 6, 2011 4:26 PM