The Real Subway to the Sea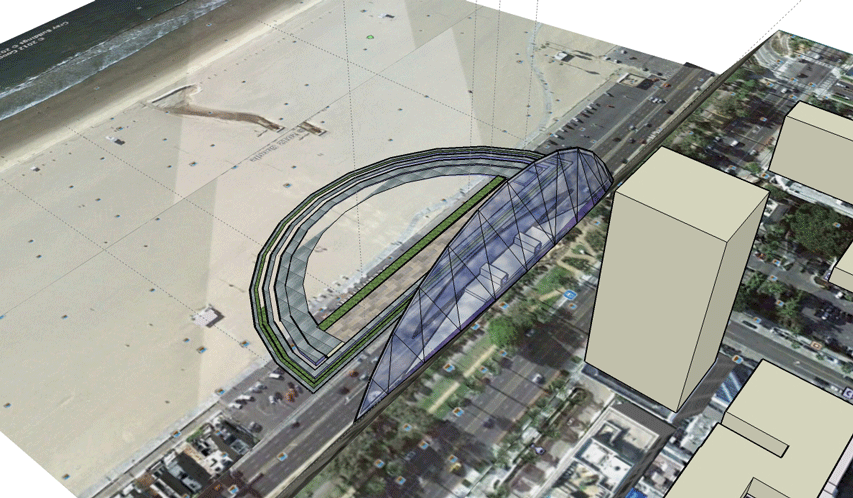 I'm a supporter of LA Mayor Villaraigosa's effort to build what we call the subway to the sea. The Los Angeles Metro's purple line has been designated to make the first connection. But the only problem is that, as I understand the plan, the terminus of the metro line will be at Wilshire and 4th Street in Santa Monica, four blocks and a cliff (Pacific Palisades) away from the sea... er, ocean. It's little wrinkles like that that make LA the besotted city it is (another example: we build a subway almost, but not quite to the airport at LAX)... "It's Chinatown LA, Jake."
So here is my pipe dream from this blogpost to G-d's ear/ your eyes.
It would seem quite a natural idea since the underground Metro would punch out to daylight at the Palisade cliffs. The trains should pop out into the daylight/sunset. Passengers should get a nice panorama of the Pacific as they emerge from the train to daylight. The elevation of the deck would be above the Pacific Coast Highway, beach goers could exit behind and under the PCH and emerge onto the beach, fanning out to the sand. The bulk of the Palisades could be used to tuck garages below grade and the top deck could merge seamlessly into the existing design of the Palisade pedestrian park.
If you like this, let this be a viral idea. Tell your friends! Better yet, write to City Hall.
Posted by Dennis at June 2, 2012 12:16 PM