"MONADS" at Cirrus Next Saturday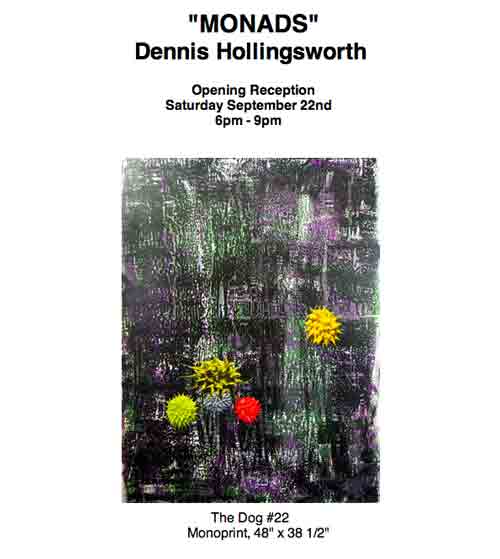 I will have a show this coming weekend at Cirrus Gallery, of my recent monoprints created at Cirrus Editions with the incomparable Jean Milant.
See more images from the edition here.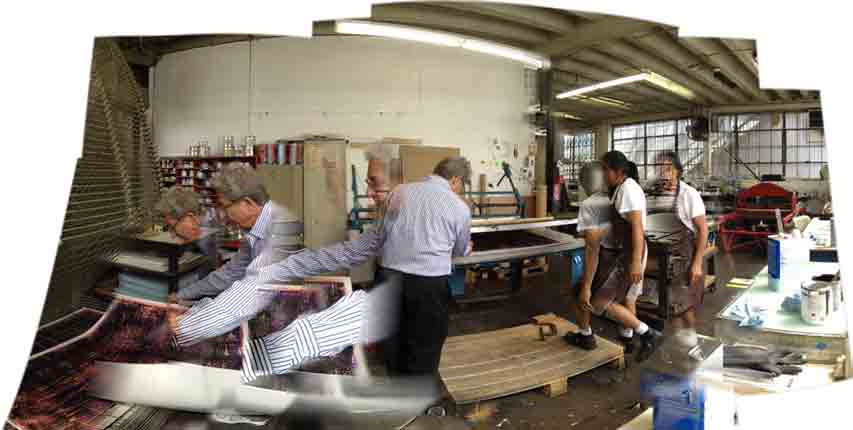 Jean and I edited the statement for this edition. Typically, my version was too turgid for a press release. But true to my turgid tendencies, here it is in its orotund glory:
Goya painted The Dog at the end of his life as he took refuge in a villa near Madrid. After initially painting the walls with conventionally inspiring images, he overpainted them with what we know today as his Black Paintings. Images of witches and colossus and fools and titans emerge from the shadows and finally Goya conjured a forlorn canine half hidden in the earth, gazing up a hill, in whose eyes one could almost detect a trace of hope.

I mark the beginning of my career in art with a visit to the Prado when I was fourteen: no longer a boy, not yet a man. I remember seeing his Caprichos, the prints were electrifying. I remember vividly that I had stood in front of Goya's Saturn Devouring His Children and time stopped, my eye and mind dilated, a universe of pigment took its place. Goya's work has been my touchstone ever since.

With this third monoprint project at Cirrus, I settled on conjuring fields of patterns derived from the peeling of ink embedded between printing plates. Multiple plates floated color over color and soon, the atmosphere of The Dog began to bloom on the paper.

The corollary of the turbulence of Peninsular War of Goya's time to our own global problems today is made with caution and determination. As an artist, Goya was a landmark and transitional figure who first served his king and later served his own imagination. His story is also about the emergence of modernity driven by the ongoing bloom of individual freedom. Modernity can be characterized by cycles of relentless change that wrenches us from the past in an often remorseless manner, as we each in our own time can all attest. Change brings uncertainty and dread, and for this I drew the dark veil of Goya's Black Paintings down across the colorful lithographic inks with a dense black silkscreen.

The Dog is as simple as a figure in a field. The creature is a figure of fragile hope. The figure that occupies the field in these monoprints are ink jet avatars culled from the language of facture which has become typical to my painting practice. These spiny hemispheres of paint resembling sea urchins have been an integral element in the formal vocabulary of my painting since I began painting wet into wet, otherwise known as a technique called alla prima, in 1996. The beauty of painting whilst the paint is buttery wet is more than the lick and luster of the materiality of paint. This beauty is also about becoming strung under the pressure to work within the drying time of the medium. The pressure of constraint makes vivid consciousness itself, and few forms in a painter's world crystalize the acuteness of feeling and thought more than a spatula drawing itself out from a jellied hemisphere of slick paint, the cowlick forming a tail in its wake, the wet medium spending itself out as it simultaneously resists and complies with gravity, this act repeated again and again until the corpuscule bristles alive with lyrical, natural form. I have a pet theory that the bristle of detail of each monad creates a limited aura of heightened visuality, a spotlight of vividness that can illuminate the painterly action or facture around it. Since the beginning, I have called them monads, a name inspired by the German philosopher Gottfried Leibniz, who wrote a treatise called Monadology which described the world as being composed of irreducible atomistic units of consciousness.

Monads are, for this project, my dogs.
Posted by Dennis at September 18, 2012 6:44 AM