Review Panel
Here in NYC, the Fall season started with ArtCritical's Review Panel, hosted by David Cohen at the Brooklyn Public Library. Here are the links to the shows under review, check them out and you can coordinate what you think with my notes from the night's conversation:
Eve Aschheim: Drawings and Photograms at Lori Bookstein Fine Art
The Cithara and the Aulos: Lauren Clay BAM< Dorothy W. Levit Lobby, Brooklyn
Fly Away: Rashid Johnson at Hauser & Wirth
A.L. Steiner: 30 Days of Mo:)rning at Koenig & Clinton Gallery
(A few afterthoughts of my own follow below the fold.)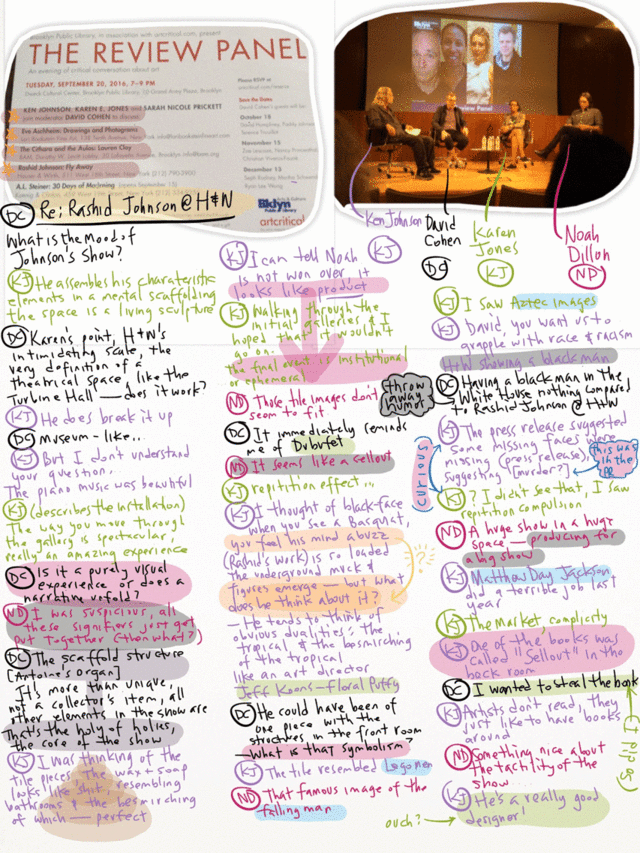 At first I thought the grouping of shows for review seemed random, but midway into the Review Panel, I realized that David Cohen might have deliberately chosen two groups to compare and contrast each other. Unfortunately, there was precious little reflection in the conversation that seized upon this apparent opportunity. Two of the exhibits were conceptual, the other two were formal. Although the former category is "younger" than the latter, both have long been digested by our art world. Neither can be now considered to be avant-garde... but then these days folks in our art world are fond of thinking that even the avant-garde itself no longer exists.
The first two shows under discussion came pre-packed with conceptual content. Race. Consumerism. Scatology. Ecology. Trans-cultural migration. Anti-Capitalism. The artist serves up the signifiers and the audience picks them up and the discussion is pre-loaded. Off to the races we go.
The second two shows under review are formal. Most of us in the art world tend to think that art like this is bereft of conceptual content... but is this really true? I think that all art is conceptual, the difference is whether it is explicit or implicit. Every formal act has precedence, every formal execution has a chance of breaking precedence. The bedrock of art history is set in the human mind and visual perception, the elementary proof of which can be found in the ur-texts of Gombrich or Arnheim. Visual perception is replete with real conceptuality.
[An important note: This is not to say that all art and especially "formal art" is automatically interesting, just as not every conceptual arrangement is automatically interesting. I think that the two formal shows, Aschheim and Clay are poor protagonists for this discussion. What I am discussing here are the broad categories of formalism and conceptualism.]
The race track of thinking in "conceptual art" is served up front, pre-designed for our obedience. Stay in your lane. The latter, "merely formal" art work requires the viewer to construct our own track of thinking. Nowadays, we automatically assume that conceptual art is intelligent... but I am suggesting a heresy: that it has evolved into something that is less intelligent.
For example, I recently visited the opening of Shadi Habib Allah at Reena Spaulings. What we see there in exhibit is 1) an invasive species of plant called kudzu, 2)an audio recording of a scooter accelerating and decelerating, 3) shabby Judd-like plywood sculptures meant (yet failing) to be functional as seating, 4) touch sensitive Fuji paper meant to be drawn upon by the crawling vines of the invasive plant. What of this are we as an audience to appreciate? We are obliged to savor the interlocking conceptual categories like so much plumbing. Like any plumbing system, the formal attributes are beside the point. In the intellectual plumbing of our art world, formal attributes are to be treated with disdain, this being a bonus point of intelligence, a signal of virtue. Our thoughts are tasked to flow within the piping, any leak is an alarming indication of failure.
"Formal" art requires hard work of an audience to construct their own race tracks of thought. Think of ""Formal Art" as the "Slow Food" versus the "Fast Food" of "Conceptual Art".
(Now that my scare quotes have run amok, time to close these notes!)
Posted by Dennis at September 21, 2016 12:49 PM