Review Panel
Review Panel convened this week with artcritical editor and host David Cohen. Invitee critics were Ariella Budick, Noah Dillon and Laila Pedro and they discussed the following exhibitions:
Gabriele Evertz: Exaltation at Minus Space, DUMBO/Brooklyn
Susan Rothenberg at Speroni Westwater, in the Bowery, NYC
Michael St. John, Democracy Portraits at Team Gallery and Ashes/Ashes in the LES, NYC
Dan Walsh at Paula Cooper Gallery in Chelsea, NYC
A general, if rushed summary: they found Evertz' paintings too dense, Rothenberg weirded them out with a painting of a woman and a title referencing Shubert, St. John's serial paintings didn't seduce them and Walsh didn't engage them.
To expand my initial impressions, we have latter day versions of Pop, Op, the Transvanguardia and Minimalism. Each artist endowed these legacy movements in art history with their own personal interpretations, to be sure... but I was left wondering if this is all there is, recycling and very little surprise. Of course, all of these artists came of age within the eras tagged, so in a redeemable universe, a kind G-d would let them off with time served. But this is the art world after all, and the G-d therein is terrible, vengeful and merciless.
Therefore, thoughts arose whether these artists have added anything worthy of attention to the chapters of history that borne them:

Did Evertz' stripes say anything that Vasarely didn't?
Ditto Rothenberg regarding Neo-Expressionism?
Ditto St. John regarding Warhol and Rosenstein?
Ditto Walsh and Minimalism.
My second thoughts:
Yes, but not enough.
No.
Not at all.
Yes, actually.
Evertz' paintings promised science but didn't deliver. Rothenberg's paintings were so sloppy and careless that I was tempted to return the favor. St. John prompted a comparison to On Karawa, his stabilized format and impulse of the calendar... but I also thought that we in the audience were in Plato's famous Cave, prisoners subjected to flickering shadows. Finally, I rather liked Walsh's expansive Minimalism, his movement of the dial away from the off (reductive) position. I was impressed and I identified with his variable and very independent systems that were very stable and sound within each work. Respect.
I took notes: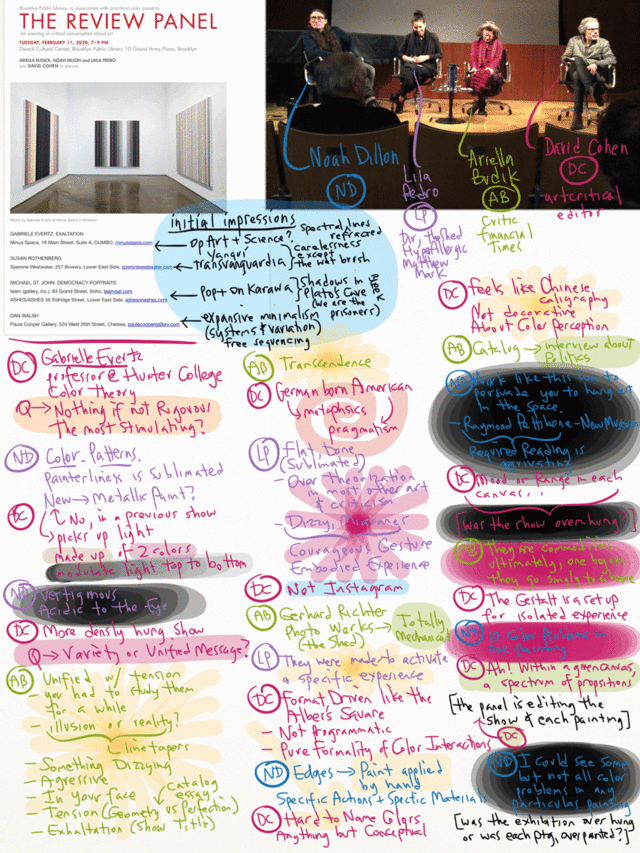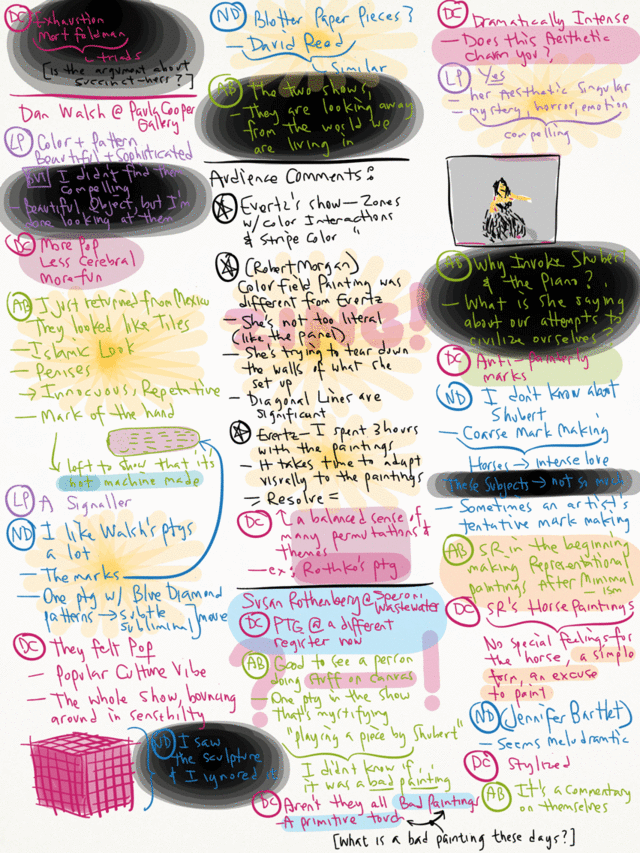 Posted by Dennis at February 12, 2020 9:47 PM