Review Panel
Last week, ArtCritical's Review Panel convened at the Brooklyn Library Dweck Auditorium. Publisher, Editor and Review Panel host David Cohen invited critics Laurie Frendrich, Barbara MacAdam and Terence Trouillot to reflect on the following exhibitions:
Curtis Talwst Santiago: "Can't I Alter" at The Drawing Center.
Willa Nasatir at Chapter NY.
Gelah Penn: Uneasy Terms at Undercurrent.
Joanna Pousette-Dart at Lisson Gallery.
To sum up the conversation, Santiago and Nasatir got respect but both exhibitions were held critically at arm's length. David Cohn's comment "There's something hermetic about both shows" seems to sum this up. In Santiago's installation, the implicit demand for too much referentiality taxed the panel. In Nasatir's painting, the intentional ambiguity between representation and abstraction seemed to be too arcane for the critics to bother to resolve. The collaged literary-based abstraction of Penn won many accolades, with Cohen again best capturing an essence of her work by saying "She's obviously a magpie..." Pousette-Dart made them all swoon, perhaps too much. Terence Trouillot nailed it when he said that her paintings were "...hard to talk about since the show was too pleasing..."
No sand, no pearl.
I took notes...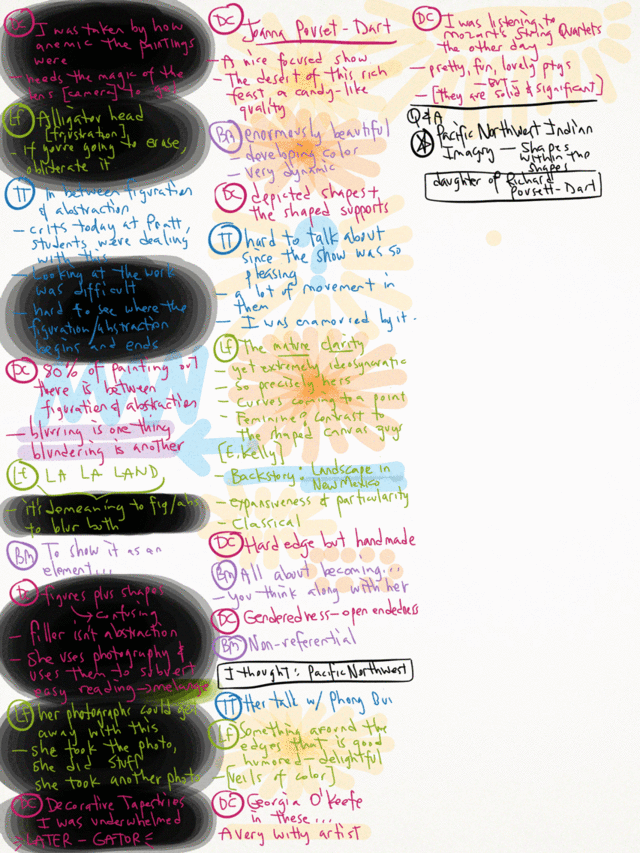 Posted by Dennis at March 15, 2020 2:39 PM