Matisse & Modigliani: Trip to Philly (with Steve Shane)

Steve Shane texted. Steve said let's go to Philly. It will be fun, he said... (see Note #2) It was indeed fun. Steve reminds me of Henry Taylor, watching him chat people up, almost like he's flirting with them. Henry and Steve, both very loving guys.
Links:
Last Chance: Matisse and Modigliani in Philadelphia
Philadelphia Museum of Art: Matisse in the 1930's
Barnes Foundation: Modigliani Up Close
Matisse
The storyline: Matisse was in a funk, a slump, he was tired of doing the same old thing ad nauseum. Then Dr Barnes asked him to paint a mural for his house in Philly. This opened the constraints of frame/stretcher, subject/background and paint/tool of delivery.
The facture of a mercenary: he would do whatever it takes. Paint with (the same) brush. Paint on paper. Paint with palette knives, scrape scrape scrape... he flipped the brush and scratched into wet paint with the tip of the handle, scratch scratch scratch. Look at these lips, for example. We can almost count the number of touches of the tip of his palette knife.
The composing mercenary: In a single painting, over several paintings (Large Reclining Nude, 1935), Matisse was working out both compositional problems and a refinement of motif. Outside of the singular canvas, Matisse used collage with custom colored paper, pinned for flexibility.
Drawing and color fill everywhere in both shows, both artists Matisse and Modigliani. Drawing and color fill, a legacy of Classicism? It wouldn't be until... DeKooning (?) that painting breaks free of drawing & color fill. (?). This is the descriptive function.
Refinement of image via drawing. The model was a pretext for icon development. This was illustrated in the exhibition with his collaboration with the Mallarmé book project. This then could be seen in other works.
Breaking free of the temporal subject towards the eternal one. (See images below)
Check out how Matisse documented the development of his painting process. He wanted people to see his decision tree.
Modigliani
(Researching Modigliani, brushing up on his bio.) Why does Rick James come to mind? Specifically, why does Chapelle's Rick James come to mind? Lover man? Funny man? Hard man? Hiding man? He was simultaneously charming, cryptic, edgy, cutting, solicitous, oracular, self destructive...
Modigliani, the outlier. Of, but not within the Post Impressionist ambit. Overtones of illustration. Drawing & color fill all the time. An illustrator that owes his roots to early Renaissance religious devotional painting., pre and para civilizational art.
The influence of African "Primitive" Art was really the influence of antiquity, an anchoring counter narrative to a Utopian Modernism. Counter weight. The Post Impressionists and associated cohorts weren't singularly focused on a modern utopia, as opposed to the Futurists, for example. The Classical container broke open and all sources from all histories and cultures were available for productive motivation.
The eyes, the famous Modigliani eyes. 1. Apparently, Modigliani said (paraphrasing) that with one eye you see the world and in the other eye you see into the mind. More than one of his self portraits attests to this conviction. 2. Painting is drawn into an equivalence to sculpture. This thought struck when I saw a subject of his in profile. (He lost the plot a bit in my opinion.) Therefore, it's not surprising to me to see that Modigliani kept rigorously to the frontal poses of his subjects. The tie between the two mediums sculpture and painting was a voluntary constraint.
Both Matisse and Modigliani were artists focused on the sensual. The voluptuousness issued from a man's POV and the widespread appreciation of both artists' works bridges the sexes.
Matisse was about the languor of the idyllic and Modigliani was about the invigoration of suffering. While I'm sure of the former characterization, I admit that I'm taking some risk with the latter. Modigliani certainly knew he would die young. Much of his youth was spent convalescing. He knew that he had tuberculosis, a communicable disease, in a non trivial way similar to AIDS. He hid his condition. I think we can see this in how he laid his paint down on canvas.
Note 1: Steve Shane is an OG collector based in NYC. I've been blessed to have works in his collection.
Note 2: The knees. Some of Amtrak's trains are strangely designed. Very social, though.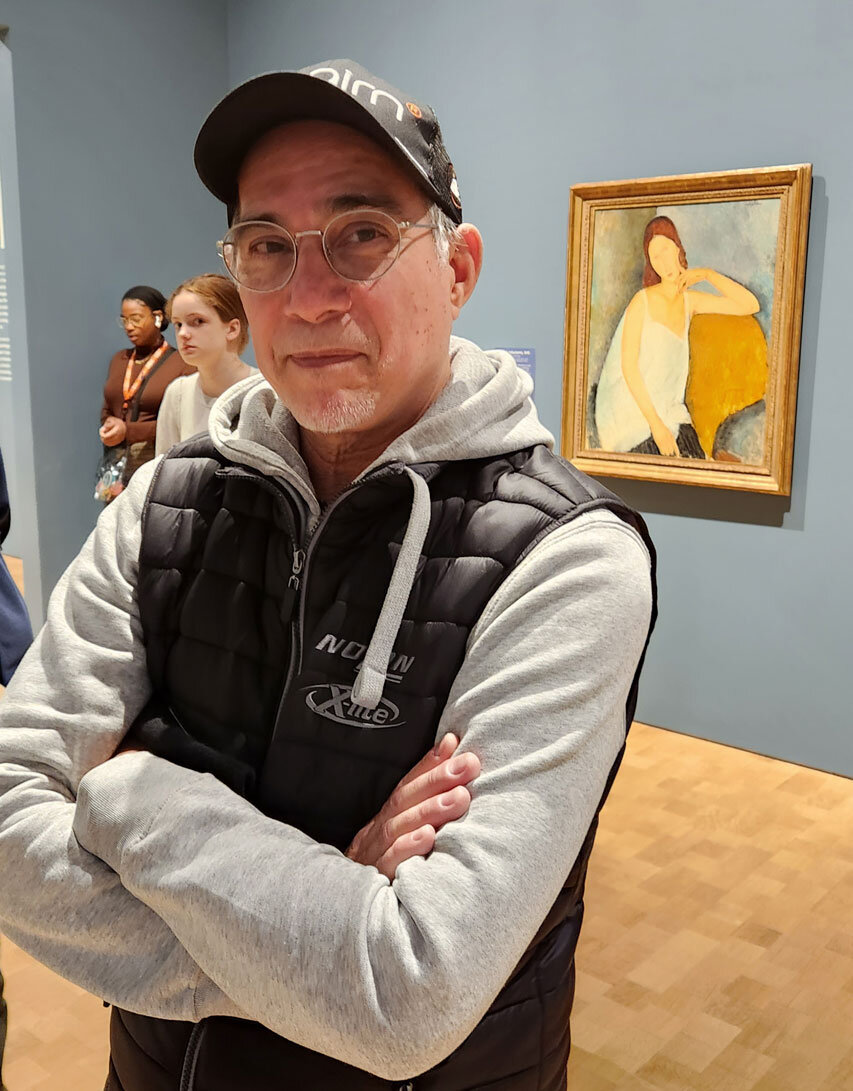 Posted by Dennis at January 19, 2023 11:55 AM