Send Off
John Pomara was kind to throw a small send off party for me last night. An interesting night of conversation, I met a few new people. It was a good opportunity to pull out the zippo camera and see what it can do in low lighting conditions.
My old buddy Dean Terry showed up. His baby son was born recently, it was good to see him again. Dean is teaching at UTD (starting a new arts and technology program), and many of the other party goers were teachers too.
Chris Jagers is teaching too, opening up another arts & technology program of his own at SMU. An ambitious painter, conversations with him are vigorous.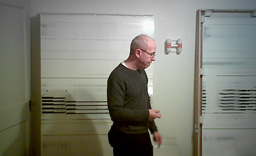 Later, we checked out John's studio, a special treat.
John is tripping out on photography, pushing past the Richter game (subordination of painting to the camera) into paintings that are inspired by photography not only by image but by a technical assembly of painting (wich recalls Ryman for me) that parallels the mechanics of industrialization of photography as it extends into history (to printing) and as it extends into the ever breaking technological innovations today (digital).
And yes, that was one sentence. A lung full.
There's an interesting similarity with other artists I know, in a concern for the aesthetic overtones in the mechanical effects of recently receding technology that I see John tracking in his work. For example, John is playing up the image degradation in photocopies and extending this serendipity into succeeding technology.... er, lemme try to say this in another way: John was digging the cool effects of a photocopy machine even as time passes and other technology eclipses those glitches with new kinds of machines. This regard for the beauty found in the technological wake is similar in type to what my pals in ChinaTown were looking at: Frances Stark and her mimeograph machines, Joel Mesler and his offset printer.
I wish I had taken more pics, of David Quadrini and Suzanne Weaver and others. But I was already making them wince with the little camera I had as it was.
Posted by Dennis at
10:50 AM
|
Comments (1)